Join GitHub today
GitHub is home to over 40 million developers working together to host and review code, manage projects, and build software together.
Sign up
New issue

Have a question about this project? Sign up for a free GitHub account to open an issue and contact its maintainers and the community.

By clicking "Sign up for GitHub", you agree to our terms of service and privacy statement. We'll occasionally send you account related emails.

Already on GitHub? Sign in to your account
Exclude non executed BSQ trade
#2937
Conversation
I am not familiar with the disputed trade nor its impact and the need for this. I assume it was a typo when creating the offer? Is this going to be common practice to exclude specific trades? Would it not be better to try to prevent these types of mistakes in the first place within the UI?
It's misleading to include non completed trades in the trade statistics. Generally it doesn't matter much but for BSQ this is the only price feed there is. If we're going to use this price feed for future reference to ask for compensation it needs to reflect a the price of BSQ as correctly as possible.
I don't really like adding exclusions like this, it's centralized and fragile. However, we also can't rely on an average price over the last months if it's too easy to paint the tape, and in this case without even using any paint.
I'm open to suggestions, perhaps excluding trades that seem to fall far outside the previous average, much like exchanges cancel trades during flash crashes and similarly. In this case it's only about showing a proper history though so it's not as serious as cancelling trades, just not accounting for them when displaying historical data.
I assume this is the trade in question?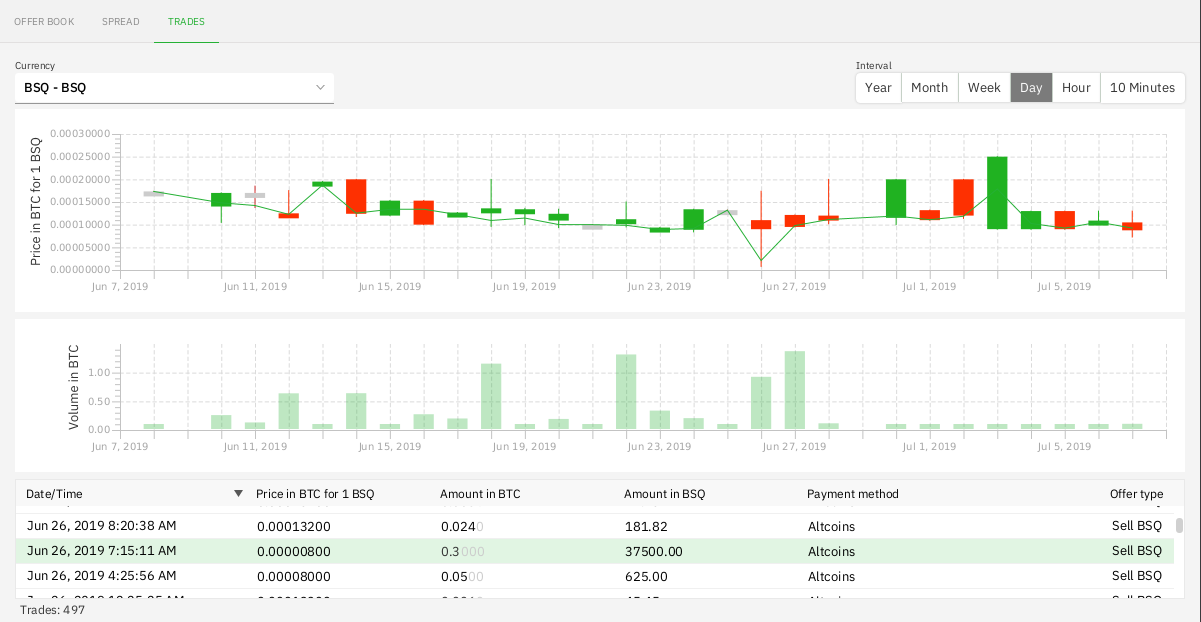 I agree that it makes sense to not show incomplete trades, but perhaps we need to implement a proper mechanism for excluding incomplete trades rather than hard coding specific trades or making other assumptions.
And with regards to determining BSQ price for compensation request purposes, I don't think we should be calculating it based on the average price but instead on the median price. That way outlier trades like this would have minimal influence on the calculated price.
That's a good point to use median, I'm basically ok to just show incomplete trades as it is now as long as it's not easy to paint the tape for the purpose of manipulating the BSQ price.
I don't think it should be possible to automate excluding incomplete trades, it's not information that's necessary to share so if we currently have some way to find that out we should work on making that impossible. We have the arbitrators for now, but with a protocol without arbitrators it wouldn't necessarily even be visible at all. Using the arbitrators is also not great in itself as it's a centralized point.
1 check passed
continuous-integration/travis-ci/pr The Travis CI build passed
Details
devinbileck
referenced this pull request
Jul 12, 2019
Add this suggestion to a batch that can be applied as a single commit.
This suggestion is invalid because no changes were made to the code.
Suggestions cannot be applied while the pull request is closed.
Suggestions cannot be applied while viewing a subset of changes.
Only one suggestion per line can be applied in a batch.
Add this suggestion to a batch that can be applied as a single commit.
Applying suggestions on deleted lines is not supported.
You must change the existing code in this line in order to create a valid suggestion.
Outdated suggestions cannot be applied.
This suggestion has been applied or marked resolved.
Suggestions cannot be applied from pending reviews.