awsicons.dev - Quickly Find & Copy AWS Icons

Open source SVG icon library with over 500+ icons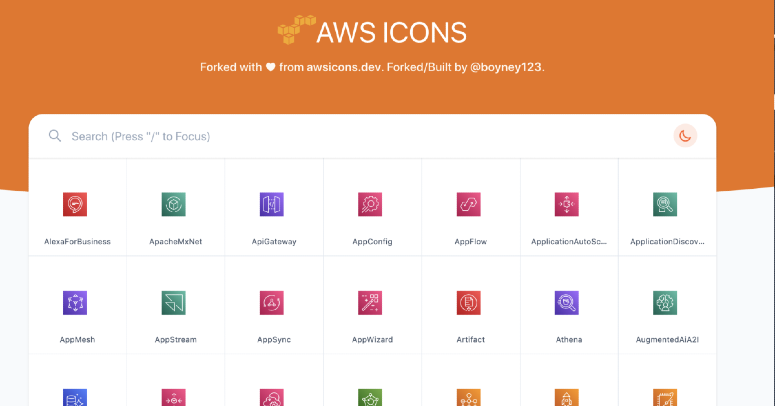 Features

✨ Tag-based search
✨ Search for only new icons using 'new': https://awsicons.dev/?query=new
✨ Click-to-copy to the clipboard as SVG or JSX
✨ Dark mode 😎
✨ Preferences sync to localStorage

Purpose

I built this project to allow people to quickly find AWS icons quickly. Simple click to copy to clipboard and job done.
Contributing Guide

Contributions are welcome! I'm actively maintaining this website.

awsicons.dev is built on top of Next.js, Tailwind CSS, GA for analytics. If you plan on contributing, the only thing you need to know is before you can build the development server, you need to run yarn tailwind-dev to build the Tailwind configuration file. yarn tailwind-build is the command for building the Tailwind configuration file for production (you probably don't need to use this one).

That's pretty much it. I'm using a custom ESLint configuration file for formatting, but you can ignore this yourself when contributing.

Thank you for contributing!
License

Open source software licensed as MIT.



Next.js

This is a Next.js project bootstrapped with create-next-app.
Getting Started

First, run the development server:
npm run dev


#

 or
yarn dev
Open http://localhost:3000 with your browser to see the result.
You can start editing the page by modifying pages/index.js. The page auto-updates as you edit the file.
Learn More

To learn more about Next.js, take a look at the following resources:

You can check out the Next.js GitHub repository - your feedback and contributions are welcome!
Deploy on Vercel

The easiest way to deploy your Next.js app is to use the Vercel Platform from the creators of Next.js.

Check out our Next.js deployment documentation for more details.