Tetrominos

A tetris clone built with React and Redux.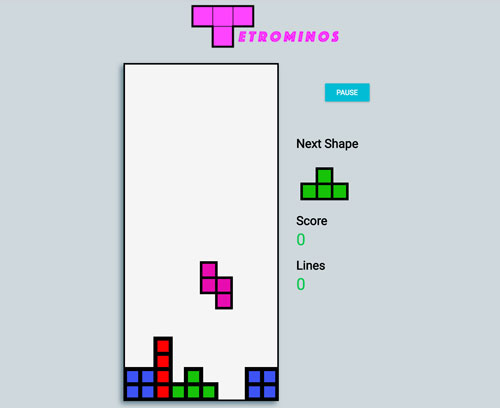 Built With
Highlights
7 Unique Tetriminos rotate and detect collisions
Scoreboard documents cleared lines
Ability to pause game, Game over when board fills
Gameboard rendered with React Konva
State management in Redux
Enhanced game difficulty. Game gets faster every 500 points.
Development setup
Author

Chris Bradshaw – @_chrisbradshaw – bradshaw.chris@gmail.com

This project is licensed under the MIT License.

https://github.com/chrisbradshaw
Contributing
Create your feature branch (git checkout -b feature/fooBar)
Commit your changes (git commit -am 'Add some fooBar')
Push to the branch (git push origin feature/fooBar)
Create a new Pull Request