Join GitHub today
GitHub is home to over 40 million developers working together to host and review code, manage projects, and build software together.
Sign up
New issue

Have a question about this project? Sign up for a free GitHub account to open an issue and contact its maintainers and the community.

By clicking "Sign up for GitHub", you agree to our terms of service and privacy statement. We'll occasionally send you account related emails.

Already on GitHub? Sign in to your account
Problem with Character Roster
#3753
Comments
Describe the bug
There seems to be a limit on the number of characters shown in the Character roster. If I have 8 shown under Favorite Characters and 2 under Recent Characters and open another character then one of the characters under Recent Characters is replaced.
To Reproduce
Steps to reproduce the behavior:
Have 8 characters under Favorite Characters and 2 under Recent Characters.
Go to 'File' and 'Open' another character.
See that one of the "Recent Characters" has been replaced..
Expected behavior
That more characters be displayed in Character Roster and not be overridden when another character is opened.
Screenshots
Roster before opening another character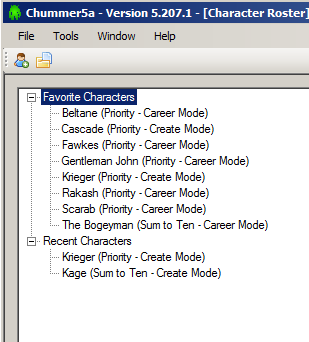 Roster after opening character

Desktop (please complete the following information):
OS: Windows 7 Home
Version: 5.207.16 [and prior]