Join GitHub today
GitHub is home to over 40 million developers working together to host and review code, manage projects, and build software together.
Sign up
New issue

Have a question about this project? Sign up for a free GitHub account to open an issue and contact its maintainers and the community.

By clicking "Sign up for GitHub", you agree to our terms of service and privacy statement. We'll occasionally send you account related emails.

Already on GitHub? Sign in to your account
Framebuffer size is incorrect on Linux with HiDPI display
#52
Comments
I've created a new issue so we could figure this one out on here. Could you remind me which line I should edit to better test the cursor positioning bug. I use a wacom intuos 3 tablet btw.
Issue
When I move over the canvas with the wacom pencil, there is an offset from the screen position, and the canvas position.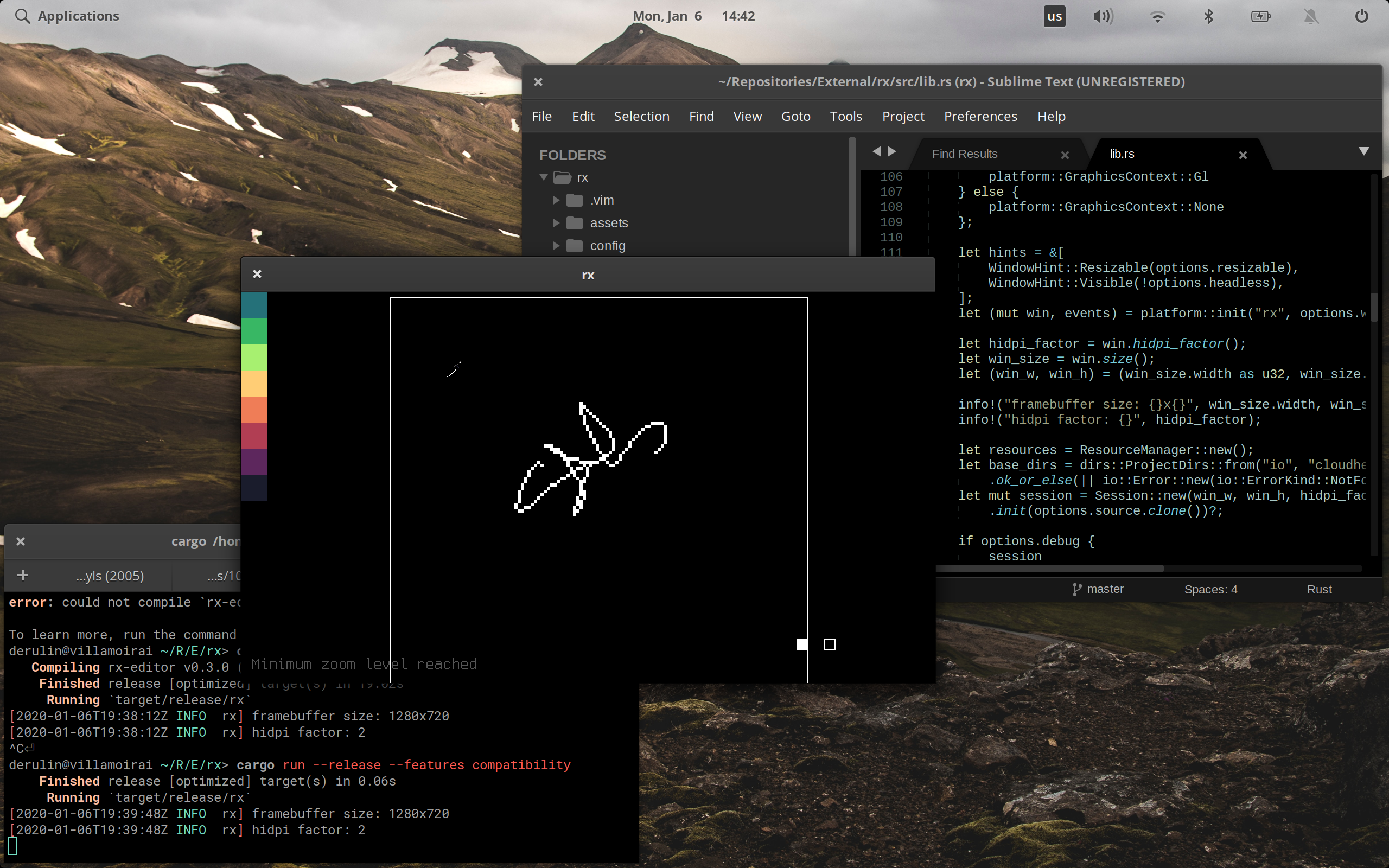 Thanks for opening this! This bug is very likely due to the framebuffer being the incorrect size: the palette is also cut-off, and so is the session status bar. Effectively the framebuffer is exactly twice the resolution as the window, because rx is told that it should render 2 physical pixels for any given 1 "window" pixel.
If you make the following change:
-

 let hidpi_factor = win.hidpi_factor();


+

 let hidpi_factor = 1.0;
You can force rx to create the right framebuffer size. If that works, at least we know the issue is dpi related, and we can go from there 👍
Amaaaaaaaazing. I think I will introduce a CLI flag for now to turn off hidpi detection until I figure out why this is happening. It looks like hidpi detection is working, since you have a retina screen and it's detecting 2, but then the window being created is not big enough for the framebuffer 🤔
If the interface is too small, you should be able scale it with :set scale = 2.0 - I'd be curious to know if that works correctly too with the current workaround.
Awesome. Excited to see what you create, and feel free to provide feedback & ideas on the issues list!
I'll leave this issue open until I fix this properly.
⛵️
I'll definitely be asking for .chr export, but we'll get to that later.
Keep up the good work! Rx is a beauty.
This should be fixed now with #54 merged. If you could confirm, would be great. (the --features compatibility flag is no longer necessary)