Join GitHub today
GitHub is home to over 40 million developers working together to host and review code, manage projects, and build software together.
Sign up
New issue

Have a question about this project? Sign up for a free GitHub account to open an issue and contact its maintainers and the community.

By clicking "Sign up for GitHub", you agree to our terms of service and privacy statement. We'll occasionally send you account related emails.

Already on GitHub? Sign in to your account
Templates mit "-" im Dateinamen nicht mehr erkannt/auswählbar
#725
Comments
Betrifft Contao ab 4.8.1
Laut Spooky werden nur noch Templatenamen mit "_" erkannt, TEmplates mit "-" werden im Backend in der Liste nicht mehr angezeigt und sind damit nach einem Update und der Bearbeitung eines Elements oder Artikels auf das Default Template zurückgeworfen.
Da einige meiner Projekte ein "-" im Templatenamen haben und auch einige Kauftemplates diese Namensvergabe haben ist das ein ziemliches Problem, was nur mit einigem Arbeitsaufwand wieder gerade zu kriegen ist (Projekt mit mehr als 5.000 Elementen)
Welchen Grund hat der Wegfall der Unterstützung des Bindestrichs?
Siehe auch https://community.contao.org/de/showthread.php?75906-Templates-nach-Update-nicht-mehr-ausw%C3%A4hlbar
Kannst du bitte testen ob das Problem mit dem 4.8-branch behoben ist?
Bin leider etwas unwissen was das angeht. Sorry :-/
Contao 4.8.2
das "Problem" wurde nicht behoben.
Kann es an dem "Picker" liegen, den mir werden zwei verschiedene Selectfelder angeboten.
In dem Beispiel wurde das Navigationsmenü genommen.
In meinem Templateordner liegen folgende Dateien:
nav_default.html5

nav_default_test.html5

nav_default-test.html5

mod_navigation.html5

mod_navigation_test.html5

mod_navigation-test.html5
Beim Navigationstemplate bekomme ich ein normales Selectfeld und kann alle Templates auswählen.
Beim Individuellen Template bekomme ich ein chosen Selectfeld und mir wird nur das "mod_navigation_test.html5" Template angezeigt. Der globale Standardtemplate wird auch nicht angezeigt.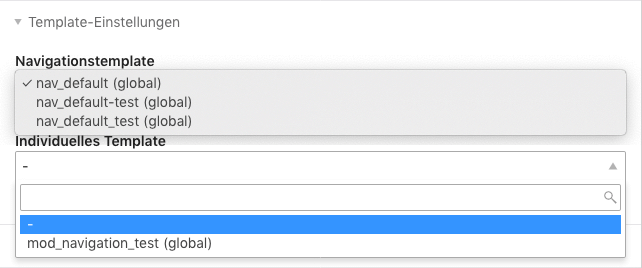 Das ist die aktuelle Version die ich habe - 4.8.2 ist installiert.
@leofeyer imho we should revert the changes to the template grouping. I don't think that there can be a solution that works for every use case.
I disagree. The new logic works fine, we have just changed how the method is called:
Contao 4.4
Contao 4.8
This is actually a bugfix, because the "custom template" drop-down menu is not supposed to show the original template.
Contao 4.4
Contao 4.8
We could adjust the glob pattern to also support hyphens, however, using hyphens in custom templates only worked accidentally, because the glob pattern happened to return them. We have, however, never recommended or documented using hyphens in template names.
und auch einige Kauftemplates diese Namensvergabe haben
@tuxenberger What themes exactly?
See #731 for a possible fix.