Join GitHub today
GitHub is home to over 36 million developers working together to host and review code, manage projects, and build software together.
Sign up
New issue

Have a question about this project? Sign up for a free GitHub account to open an issue and contact its maintainers and the community.

By clicking "Sign up for GitHub", you agree to our terms of service and privacy statement. We'll occasionally send you account related emails.

Already on GitHub? Sign in to your account
UX: "Couldn't save entry" error is confusing and poor UX due to tabs
#3248
Comments
Description
When saving an entry, a user has complained they cannot save and receive a vague "Couldn't save entry", error message. It is not clear what the issue is as you can see in this screenshot: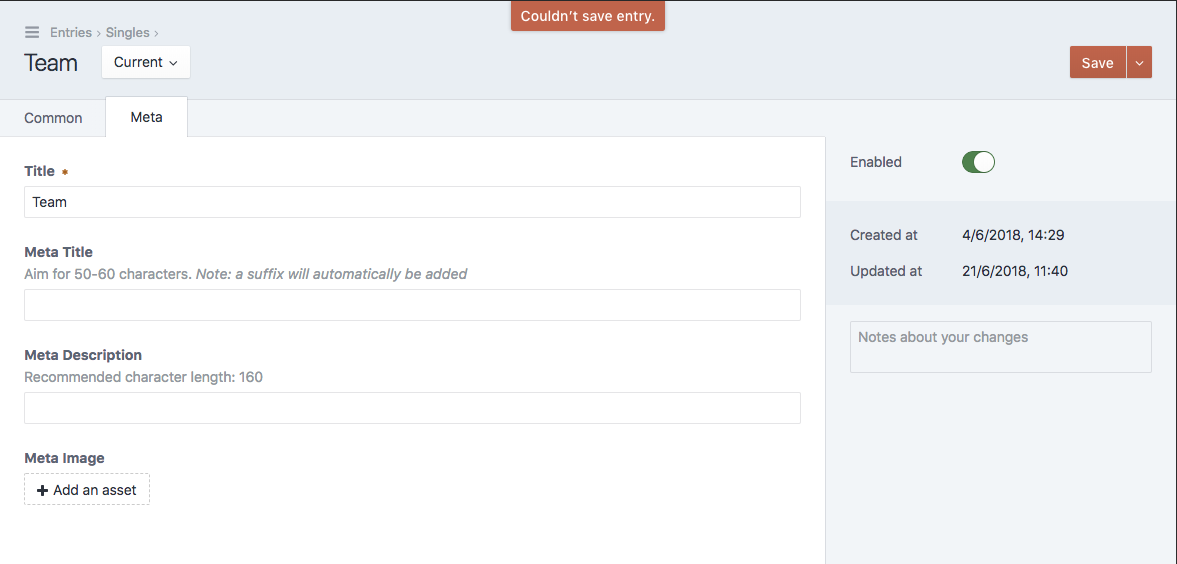 It turns out, the error is actually on another tab.

May I suggest the tab with said error is either opened, highlighted or that the error is specifically listed out at the top of the page to give the user more context and help.
Steps to reproduce
Have a field with a required value not set
Save entry on another tab with no errors
Additional info
andrewhawkes changed the title "Couldn't save entry" error is confusing and poor UX due to tabs Aug 29, 2018
@brandonkelly I see. Would it be much work to specify what the error is, or show a less generic error which makes it clear there's invalid content? I also wonder if it's worth maybe having a pulsating/flashing class on the invalid tab or an icon. I'm red/green colorblind and it doesn't stand out too much in the screenshot of yours.
That feels like a duplicate of #1379 so maybe add a 👍 to that issue?