dte

dte is a small and easy to use console text editor.
Features
Multiple buffers/tabs
Unlimited undo/redo
Regex search and replace
Syntax highlighting
Customizable color schemes
Customizable key bindings
Command language with auto-completion
Unicode 11 compatible text rendering
Support for multiple encodings (using iconv)
Jump to definition (using ctags)
Jump to compiler error
Screenshot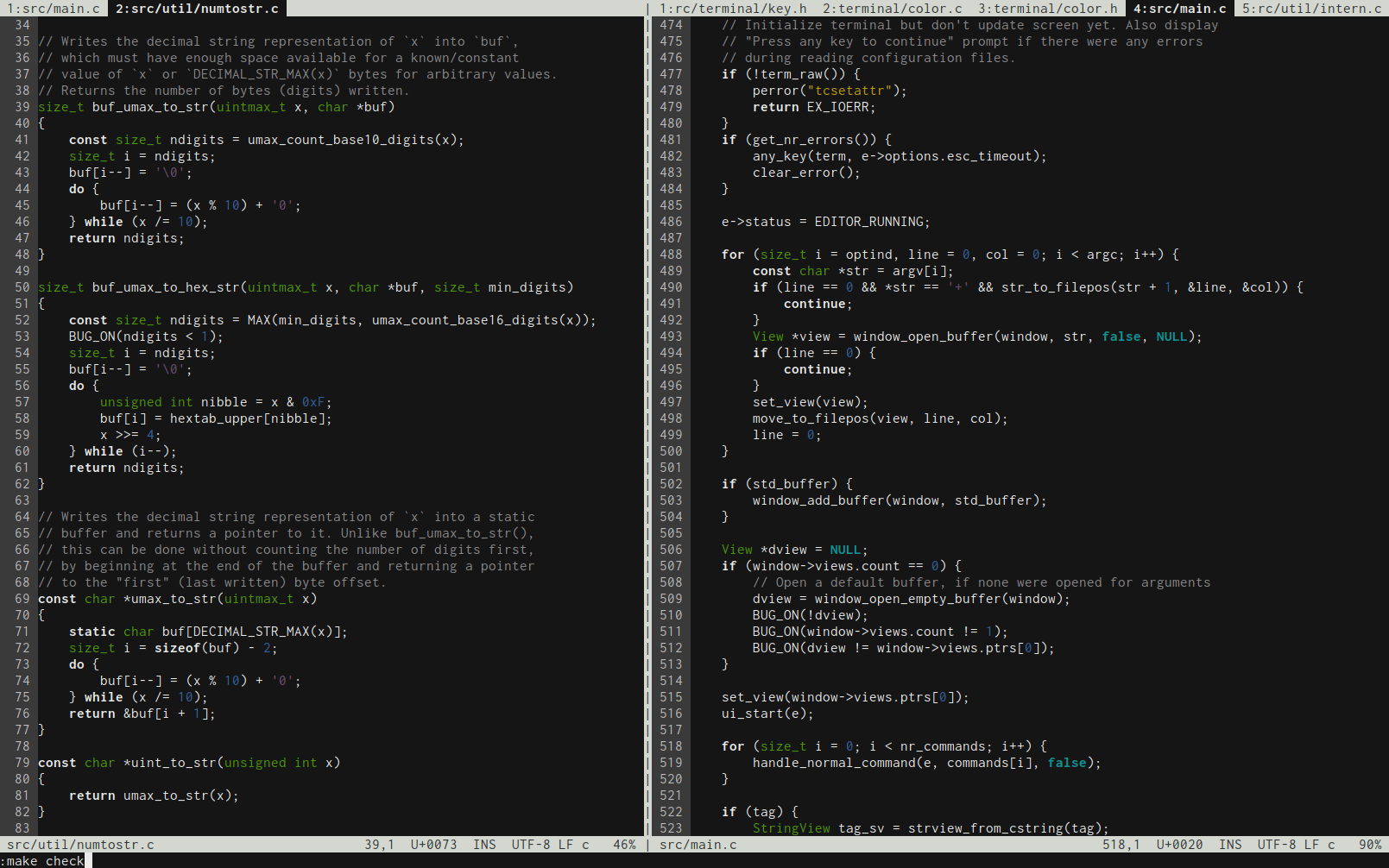 Requirements
Installation

To build dte from source, first install the requirements listed above, then use the following commands:
curl -LO https://craigbarnes.gitlab.io/dist/dte/dte-1.7.tar.gz
tar -xzf dte-1.7.tar.gz
cd dte-1.7
make -j8 && sudo make install

Documentation

After installing, you can access the documentation in man page format via man 1 dte, man 5 dterc and man 5 dte-syntax.

Online documentation is also available at https://craigbarnes.gitlab.io/dte/.
Testing

dte is tested on the following platforms:
Alpine Linux
CentOS
Debian
Ubuntu
Void Linux (musl)
Manual testing:
Other POSIX 2008 compatible platforms should also work, but may require build system fixes.
Packaging

The following optional build variables may be useful when packaging dte:
prefix: Top-level installation prefix (defaults to /usr/local).
bindir: Installation prefix for program binary (defaults to $prefix/bin).
mandir: Installation prefix for manual pages (defaults to $prefix/share/man).
DESTDIR: Standard variable used for staged installs.
V=1: Enable verbose build output.
TERMINFO_DISABLE=1: Use built-in terminal support, instead of linking to the system terminfo/curses library. This makes it much easier to build a portable, statically linked binary. The built-in terminal support currently works with tmux, screen, st, xterm (and many other xterm-compatible terminals) and falls back to ECMA-48 mode for other terminals.
Example usage:
make V=1
make install V=1 prefix=/usr DESTDIR=PKG

License

Copyright (C) 2017-2018 Craig Barnes.
Copyright (C) 2010-2015 Timo Hirvonen.

This program is free software; you can redistribute it and/or modify it under the terms of the GNU General Public License version 2, as published by the Free Software Foundation.

This program is distributed in the hope that it will be useful, but WITHOUT ANY WARRANTY; without even the implied warranty of MERCHANTABILITY or FITNESS FOR A PARTICULAR PURPOSE. See the GNU General Public License version 2 for more details.