MetaMagik Kanboard Plugin

Forked from Metadata Plugin and added functionality ontop of previous plugin, there is no need to use both plugins
Added Features:
Customizable Fields for tasks. (Textbox, Dropdowns, CheckBoxes, Radios)
A settings panel which allows you to create custom fields for tasks.
Fields will show up when creating/modifying tasks.
Custom fields added to task details.
Metadata is duplicated during task duplication.
Exporting tasks to CSV will include custom fields.
Filters for searching metadata.
Original Features:
Metadata Sidebars for tasks, projects, and users to add remove metadata. (from original fork, slight UI improvements involving tasks)
Plugin for https://github.com/fguillot/kanboard
Author
Installation
Decompress the archive in the plugins folder
or
Create a folder plugins/MetaMagik
Copy all files under this directory
Usage

Settings>Custom Fields: panel for creating custom fields for tasks
Fields setup in Settings will appear in the task creation panel:
Metadata will appear under Task Details in an Accordian:
Metadata will also show up as a tooltip on the Board:
There is also a sidebar menu to add/remove/edit metadata, which is not dependent on the fields setup in your settings, adding fields here will not add metadata fields during creation or modification to a task, only those in the settings panel will show up. This sidebar will appear for tasks, users, and projects:
During Task Modification, your custom fields will be pre-populated with yout data:
Perform searches for metadata fields. metakey:"field"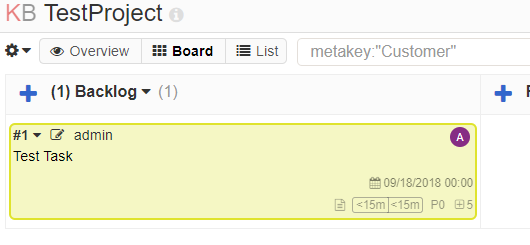 Perform searches for metadata values. metaval:"value"
Export to CSV will include your custom fields and data during Task Export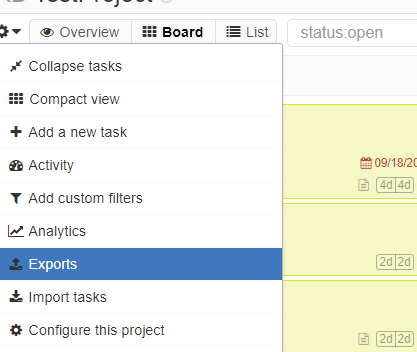 Credits
Original Metadata Plugin author: BlueTeck
Unused non working code in original code that greatly assisted in adding the settings panel: Daniele Lenares
Some guy who suckered me into writing this code, and provided the idea and desire: Julien Buratto