Checkout our latest project
With DocPHT you can take notes and quickly document anything and without the use of any database.
---
Donate to help keep this project maintained.
Due to a lack of time, I will no longer Maintain this project, consider it Archived. If you wish to maintain, seek me out.
⭐ If you use it, you should star it on Github! It's the least you can do for all the work put into it!
Task2PDF

Convert a Task to a PDF, Printer Friendly!
What do?
Install plugin
Gain sidebar item to "Create PDF"
PDF is created that is simple and printer friendly
Win!
Support for CJK Characters!
New Feature: Print all open tasks in a project to one PDF.
To turn on CJK Support, go to Settings > Application Settings, and the toggle will be located toward the bottom of the page.
Screenshots?
Menu item:

Create PDF of a task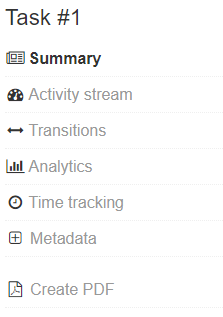 Create PDF of all open tasks in a project