Join GitHub today
GitHub is home to over 50 million developers working together to host and review code, manage projects, and build software together.
Sign up
GitHub is where the world builds software
Millions of developers and companies build, ship, and maintain their software on GitHub — the largest and most advanced development platform in the world.
New issue

Have a question about this project? Sign up for a free GitHub account to open an issue and contact its maintainers and the community.

By clicking "Sign up for GitHub", you agree to our terms of service and privacy statement. We'll occasionally send you account related emails.

Already on GitHub? Sign in to your account
header values also shown in bold
#2736
Comments
I did this
I expected the following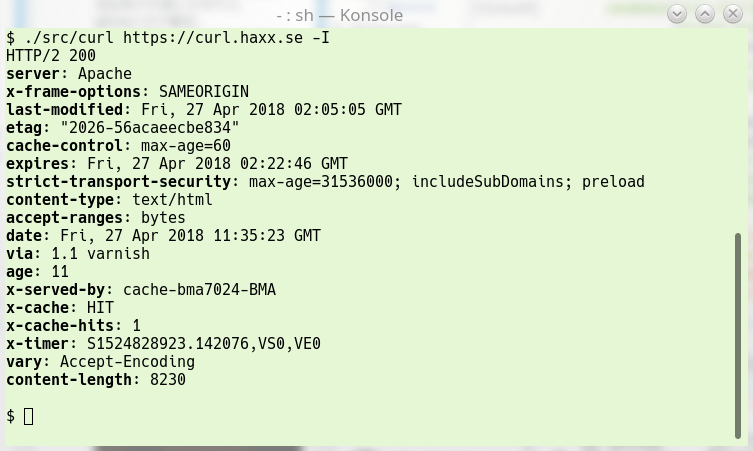 curl/libcurl version
curl 7.61.0 (x86_64-apple-darwin17.7.0) libcurl/7.61.0 OpenSSL/1.0.2o zlib/1.2.11 libidn2/2.0.5 libpsl/0.20.2 (+libidn2/2.0.5) nghttp2/1.32.0
Release-Date: 2018-07-11
Protocols: dict file ftp ftps gopher http https imap imaps pop3 pop3s rtsp smb smbs smtp smtps telnet tftp 
Features: AsynchDNS IDN IPv6 Largefile NTLM NTLM_WB SSL libz TLS-SRP HTTP2 UnixSockets HTTPS-proxy PSL 

operating system
macOS 10.13.6, curl installed from MacPorts, shell is fish.