Join GitHub today
GitHub is home to over 40 million developers working together to host and review code, manage projects, and build software together.
Sign up
New issue

Have a question about this project? Sign up for a free GitHub account to open an issue and contact its maintainers and the community.

By clicking "Sign up for GitHub", you agree to our terms of service and privacy statement. We'll occasionally send you account related emails.

Already on GitHub? Sign in to your account
Importing movies dataset breaks Dgraph v1.1.0-rc1 on Windows 10
#3800
Comments
If you suspect this could be a bug, follow the template.
What version of Dgraph are you using?
Dgraph v1.1.0-rc1
Have you tried reproducing the issue with latest release?
Dgraph v1.1.0-rc1 is the latest release
What is the hardware spec (RAM, OS)?
16 GB RAM, WIndows 10 v1903, slow HD
Steps to reproduce the issue (command/config used to run Dgraph).
Download Dgraph v1.1.0-rc1 windows version
Start in empty directory
Run dgraph alpha --lru_mb 2048 --zero localhost:5080 --port_offset 200
Run dgraph.exe zero
Run dgraph-ratel.exe
Open ratel
Alter the schema based on this https://tour.dgraph.io/master/moredata/1/#
Extract the zip file
Run .\dgraph.exe live -f .\1million.rdf -a localhost:9280
Expected behaviour and actual result.
Expected that the live loading works fine.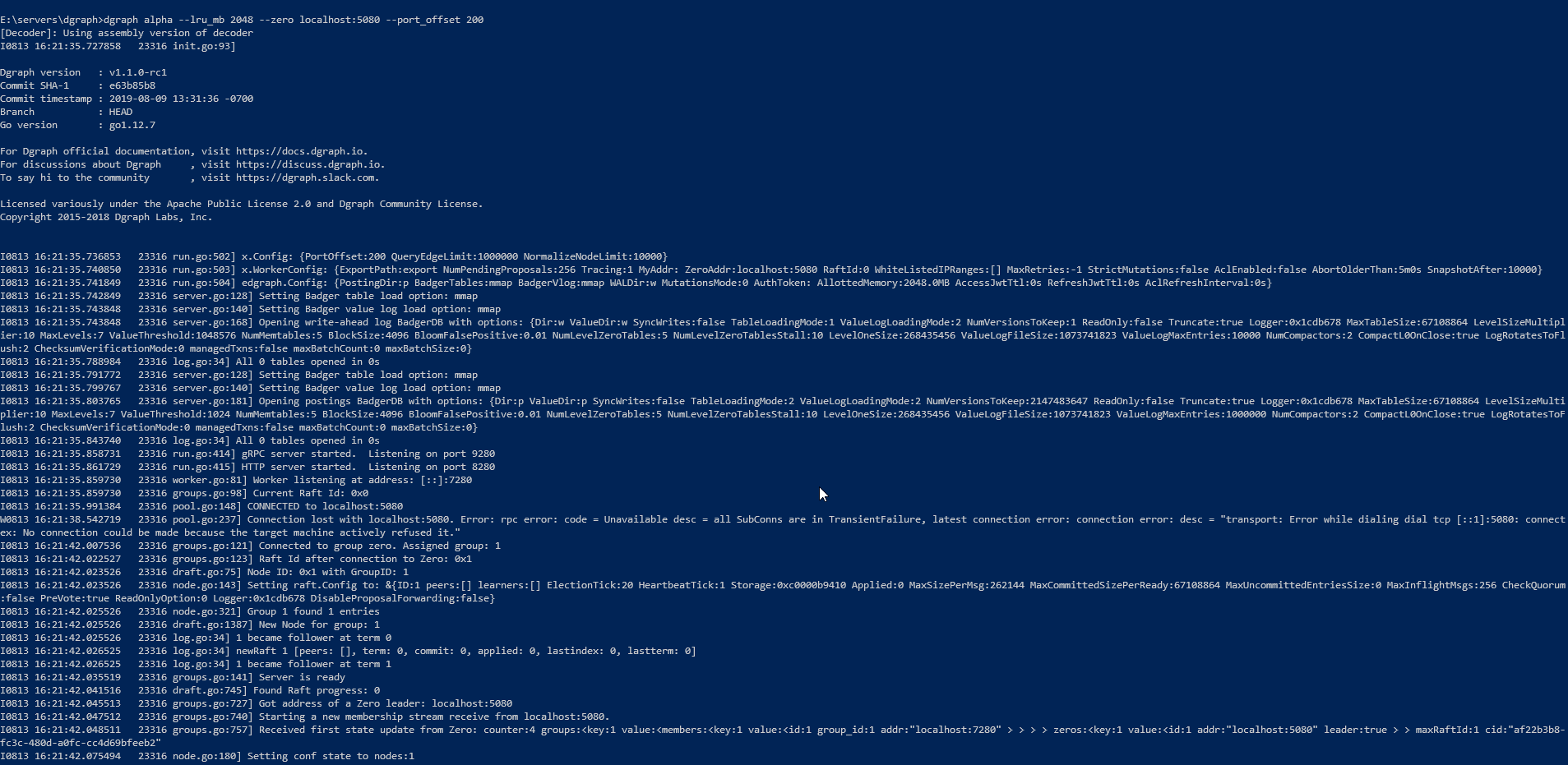 Same here.
OS specs:
Operating System: Arch Linux
Kernel: Linux 5.2.0-arch2-1-ARCH
Architecture: x86-64
8Gb RAM
SSD Samsung Evo 970 Plus 256gb
@dodyg I'm not sure about your logs, It seems okay to me. Are you having some other issue? After the live load are you able to use it?
A user at Slack kindly explained that the error is caused by following along the Tour of DGraph for version 1.0.16 while running the master branch locally. The same error I was receiving got solved by changing the Tour of DGraph version to master.
Yeah, @gugahoa It was me. His case seems to be different, but his logs don't help.
The loading of live data works well in Dgraph v1.0.16 as far as I remember.