Fish Shell Goodies

Fish config with awesome flexible prompt, unicode symbols, better fzf integration and lot of handy functions.
Instalation
git clone git@github.com:dmi3/fish.git
Install configs:

All: run ./_install.fish ⚠ this will remove ~/.config/fish! Backup before running
Some: source files you are interested in your ~/.config/fish/config.fish

Install fzf or run fish -c update-fzf
---
Useful aliases
---
Dark theme. See screenshots.
---
Decription

Auto generate completion for todo script. Search script for strings starting with -- and add them to Fish completion as arguments for todo command
---
Entry point that includes all other configs
---
Functions useful for developers
---
Better integration of Fish Shell and fzf
Ctrl+R show fzf (fuzzy) history search where you can:

Execute previos command
Edit command before execution
Delete history entry (very useful for no longer actual commands)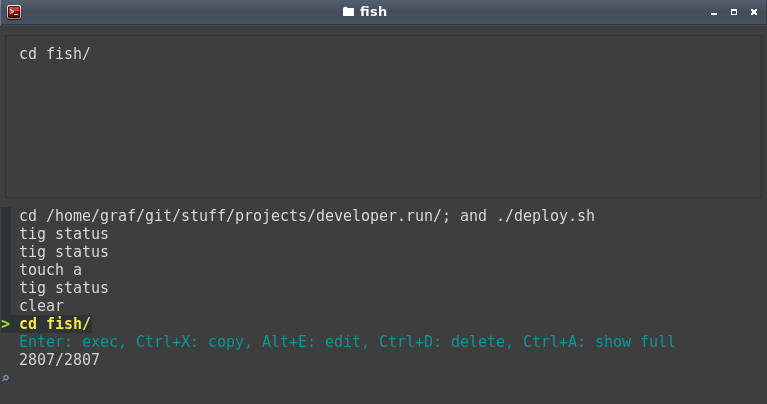 Ctrl+E to show recent directories
Ctrl+F searches by filename
Alt+Ctrl+F searches by file contents
Convinient navigation using Alt+Ctrl + → ← ↑

History back/forward/go to parent dir
You can use Fish as file manager!
Comes handy when you start typing command, then realize wrong dir

Prints error status in case of command failure
Prints directory and currently running command in tab title ↓
---
Two line propmt with full path and Git integration that scales nicely.

# set_color F92672 # echo -n " ⬆$__git_unpushed_commits "
---
Decription
Prompts for single Fish command in left bottom corner of given application window
To make benefit of Fish shell autocompletion and history
Closes after one command is executed
If command fails, leaves window to inspect error message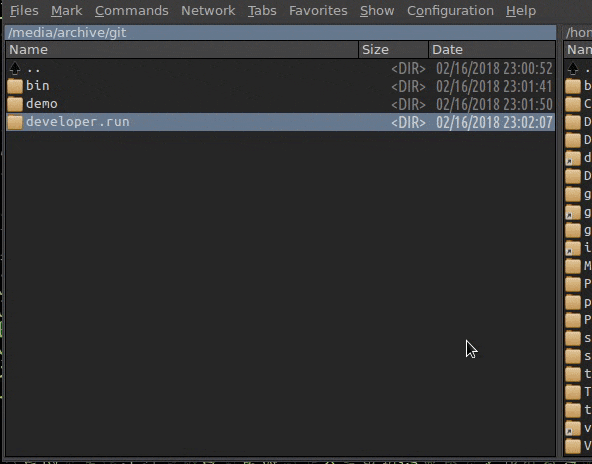 For example you want execute git clone git@github.com:dmi3/bin.git in current directory from Double Commander:
Press Shift+F2 and terminal window appears in left bottom corner of Double Commander window
First you want git and clone to be autocompleted using Fish
During clone process you want to see git command output to monitor progeress
If everything is ok, promt will close
In case of error you will have chance to read error message
Requirements
sudo apt-get install fish wmctrl xterm
Usage
Use Fish config that supports ONE_COMMAND
Argument is window title of any app:

singlecmd.fish "Sublime Text"
singlecmd.fish "IntelliJ IDEA"
...

OR open Double Commander
Toolbar → Insert new button:

Command: /path/to/singlecmd.fish
Parameters: "Double Commander"
Hot Key: Shift+F2
---
Calls to various CLI friendly web services
---