New issue

Have a question about this project? Sign up for a free GitHub account to open an issue and contact its maintainers and the community.

By clicking "Sign up for GitHub", you agree to our terms of service and privacy statement. We'll occasionally send you account related emails.

Already on GitHub? Sign in to your account
[BUG] Slow scrolling/cursor movement on macOS with large window
#2217
strayer
opened this issue
Dec 20, 2019
· 30 comments
strayer
opened this issue
Dec 20, 2019
· 30 comments
Labels
is:upstream
Originates from outside the project and cannot be fully addressed here
os:macOS
Pertains specifically to MacOS
re:perf
Pertains to startup speed and general snappiness
status:unknown
Cause unknown; cannot be reproduced; cannot investigate further
todo:move to discourse
This should be moved to Discourse (once it's up)
Comments
What did you expect to happen?
Smooth performance when scrolling and moving cursor.
What actually happened?
Stuttery movement when the emacs window is maximized.
Additional details:
https://github.com/Strayer/dotfiles/tree/f6a037b/.doom.d
Video that shows the slow cursor movement:
https://youtu.be/54ozr4zPgTw
Profiler info with large window: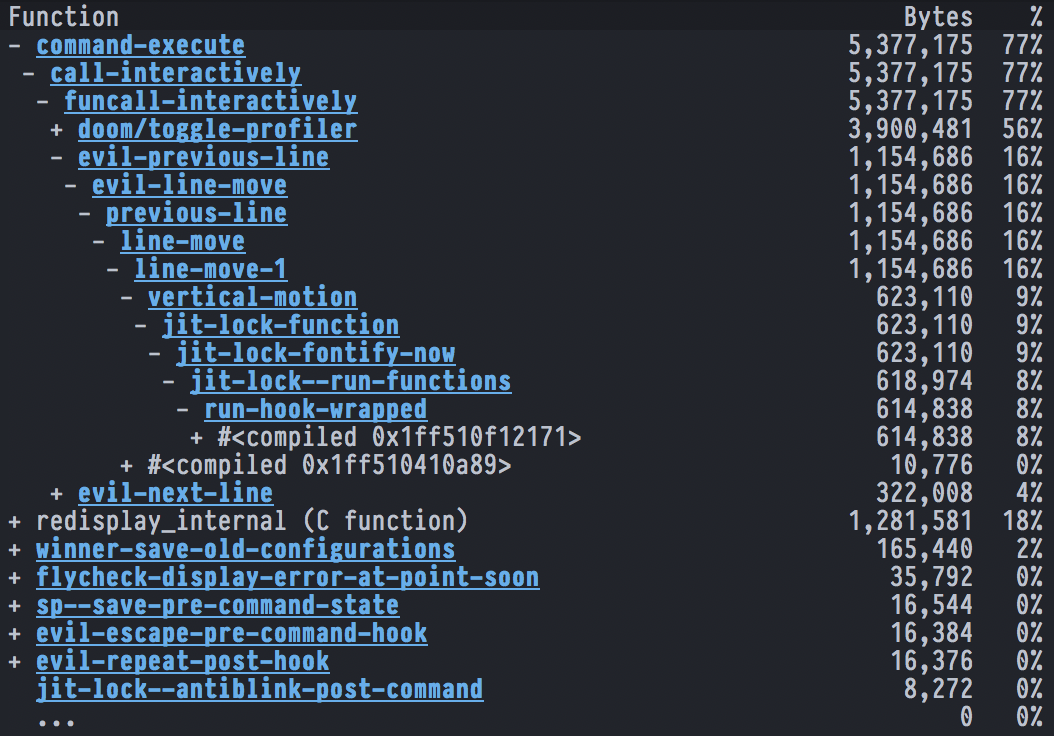 Profiler info with small window:
I'm using emacs 27 installed via homebrew:
brew install emacs-plus --HEAD --without-spacemacs-icon --with-jansson --without-multicolor-fonts
I did experience the same problem with emacs 26 too though.
System information:
((emacs
  (version . "27.0.50")
  (features . "RSVG IMAGEMAGICK GLIB NOTIFY KQUEUE ACL GNUTLS LIBXML2 ZLIB TOOLKIT_SCROLL_BARS NS MODULES THREADS JSON PDUMPER LCMS2 GMP")
  (build . "Dec 20, 2019")
  (buildopts "--disable-dependency-tracking --disable-silent-rules --enable-locallisppath=/usr/local/share/emacs/site-lisp --infodir=/usr/local/Cellar/emacs-plus/HEAD-85a60da/share/info/emacs --prefix=/usr/local/Cellar/emacs-plus/HEAD-85a60da --with-xml2 --without-dbus --with-gnutls --with-imagemagick --with-json --with-modules --with-rsvg --with-ns --disable-ns-self-contained")
  (windowsys . batch)
  (daemonp . server-running))
 (doom
  (version . "2.0.9")
  (build . "HEAD, origin/develop, origin/HEAD 6d40f30a0 2019-12-20 05:01:44 -0500"))
 (system
  (type . darwin)
  (config . "x86_64-apple-darwin19.2.0")
  (shell . "/usr/local/bin/fish")
  (uname . "Darwin 19.2.0 Darwin Kernel Version 19.2.0: Sat Nov  9 03:47:04 PST 2019; root:xnu-6153.61.1~20/RELEASE_X86_64 x86_64")
  (path "~/.local/bin" "~/.poetry/bin" "~/.cargo/bin" "~/.bin" "/usr/local/sbin" "~/Library/Android/sdk/tools" "~/Library/Android/sdk/platform-tools" "~/.asdf/shims" "~/.asdf/bin" "/usr/local/bin" "/usr/bin" "/bin" "/usr/sbin" "/sbin" "/opt/X11/bin" "/Applications/VMware" "Fusion.app/Contents/Public" "/Applications/Wireshark.app/Contents/MacOS" "/Applications/VMware" "Fusion.app/Contents/Public" "~/.local/bin" "/usr/local/Cellar/emacs-plus/HEAD-85a60da/libexec/emacs/27.0.50/x86_64-apple-darwin19.2.0"))
 (config
  (envfile . envvar-file)
  (elc-files . 0)
  (modules :completion company ivy :ui doom doom-dashboard doom-quit hl-todo modeline nav-flash neotree ophints (popup +all +defaults) vc-gutter vi-tilde-fringe window-select workspaces :editor (evil +everywhere) file-templates fold format multiple-cursors rotate-text snippets :emacs dired electric ibuffer vc :tools ansible direnv docker editorconfig (eval +overlay) flycheck (lookup +docsets) magit terraform :lang data elixir emacs-lisp erlang javascript markdown (org +dragndrop +present) php python sh web :config (default +bindings +smartparens))
  (packages "n/a")
  (elpa "n/a")))

The text was updated successfully, but these errors were encountered:
Labels
is:upstream
Originates from outside the project and cannot be fully addressed here
os:macOS
Pertains specifically to MacOS
re:perf
Pertains to startup speed and general snappiness
status:unknown
Cause unknown; cannot be reproduced; cannot investigate further
todo:move to discourse
This should be moved to Discourse (once it's up)