Join GitHub today
GitHub is home to over 40 million developers working together to host and review code, manage projects, and build software together.
Sign up
New issue

Have a question about this project? Sign up for a free GitHub account to open an issue and contact its maintainers and the community.

By clicking "Sign up for GitHub", you agree to our terms of service and privacy statement. We'll occasionally send you account related emails.

Already on GitHub? Sign in to your account
Window.xaml Resource cannot be found in Debug Mode
#2551
Comments
.NET Core Version: (e.g. 3.0 Preview1, or daily build number, use dotnet --info)
Version: 2.1.802
Commit: 177d0b2525
Windows version: (winver)
WINDOWS 10.0.18362
Does the bug reproduce also in WPF for .NET Framework 4.8?: Yes/No
YES
Is this bug related specifically to tooling in Visual Studio (e.g. XAML Designer, Code editing, etc...)? If yes, please file the issue via the instructions here.
Security issues and bugs should be reported privately, learn more via our responsible disclosure guidelines.
Problem description:
I'm using vs2019
I added a window, what named "UserWindow"
and I set this window to startupuri. so, I ran program, but program error reported me "userwindow.xaml cannot be found'.
I checked folder and namespaces but It is ok.
I ran program with realese mode, then It works
like this thread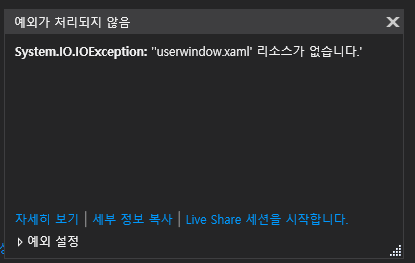 cannot be found rescource 'userwindow.xaml'
Actual behavior:
add window, and set the startupuri
Expected behavior:
show well the window
Minimal repro:
i dont know sorry
maybe?
No NO I"m sorry that I miss wrote verison that .net framework.
it's 4.7.2 sorry
@SnowyPainter - 1. Have you tried cleaning the solution? 2. Also, can you pls share the MSbuild binary logs by following the below link?
https://aka.ms/msbuild/Binary-Log
I'm sorry that. I just clean up the code at Release Mode.
I tried clean up code at Debug Mode,
It works.
Thank you I'll close it