New issue

Have a question about this project? Sign up for a free GitHub account to open an issue and contact its maintainers and the community.

By clicking "Sign up for GitHub", you agree to our terms of service and privacy statement. We'll occasionally send you account related emails.

Already on GitHub? Sign in to your account
Permaculture, BIPOC, Climate ~ Cross Pollination of Movements with DWeb
#27
marylychee
opened this issue
Jun 18, 2019
· 26 comments
marylychee
opened this issue
Jun 18, 2019
· 26 comments
Comments
Idea
CROSS POLLINATION OF EVERYTHING.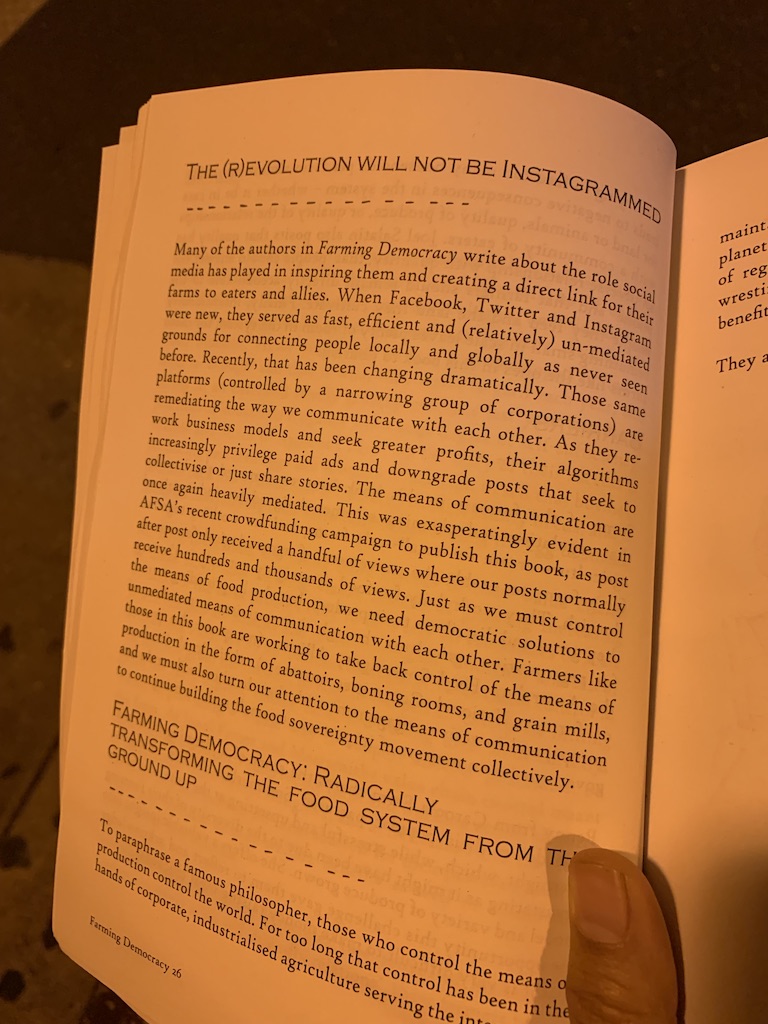 The Revolution will not be Instagramed - from the book Farming Democracy - 2019 Australian Food Sovereignty Alliance
How can we be cross pollinating, and working with other movements around the world??
From BIPOC, permaculture groups, women, non-binary, and trans, and in helping fostering social justice, local community, and bio-regional stewardship are some of the examples and potentials of decentralised, local-first social platforms with peer to peer gossip technology like Secure Scuttle Butt (SSB). Related to Why community networks.
More importantly, can we see how there are repetitive patterns of extraction, commodification and capitalism in technology, agriculture, food systems, and health care.... and the learnings of healing and resilience that can and are crossing over?
You see, the problems and story-lines of technology, agriculture and social dynamics between everything are interwoven and interconnected. Applying intersectionality in understanding the both, you begin to see how class, sex, gender, race all are influenced by power dynamics in Big Ag and Big Tech, and in fact, community efforts and participatory action in both can cross pollinate and facilitate each other.
Among examples I'm exploring with many others include:
Permaculture, seed sovereignty, rematriation, community resilience, local food systems, and food sovereignty.
I've recently got in touch with Heather from Permaculture Women on this and she's excited explore together in "unplugging" from facebook groups and in holding digital spaces for her yearly free permaculture online course potentially with the used of SSB and other decentralised web tools. One of my favourite articles:
On Seeds, Decolonization and the Feminine Side of Things  —  a Conversation with Rowen White

Australian Food Sovereignty Alliance - has been vocal many times, on how facebook is no longer a suitable platform for local food organizing, competing with algorithmic biases.
Crossfit recently also unplugged and suspended usage from Facebook & Instagram. '' Facebook's news feeds are censored and crafted to reflect the political leanings of Facebook's utopian socialists while remaining vulnerable to misinformation campaigns designed to stir up violence and prejudice...."
Facebook is acting in the service of food and beverage industry interests by deleting the accounts of communities that have identified the corrupted nutritional science responsible for unchecked global chronic disease. In this, it follows the practices of Wikipedia and other private platforms that host public content but retain the ability to remove or silence—without the opportunity for real debate or appeal—information and perspectives outside a narrow scope of belief or thought. In this case, the approved perspective has resulted in the deaths of millions through preventable diseases. Facebook is thus complicit in the global chronic disease crisis.
Retrosuburbia - how local based, community-connecting platforms like Scuttlebutt, can help in "retrofitting" city suburbs and communities to engage in local non-monetary food sharing, community work, solidarity and connection. Examples in fire safety and fire-resiliency.
...on food politics, and decentralization/centralization - what monopolies in companies means in monocultures and biodiversity, don't know if there's much on food systems and food politics specifically.... but everyone... eats
benhylai: the farm is quite an interesting space for this, it has a lot of energy and seed projects in house, the area has a microclimate where they can grow crops from the Andes and they are thinking to experiment with crops there. It has the advantage of excellent conditions for agricultural and energy (wind and solar) so it's a little of an unfair advantage ;) but they are interested in local production and want to show how we can live happily without killing the planet, or have all these dependencies on extractive corporations. Camp is to explore where DWeb tech fits in to help that mission of sustainable livelihoods. You're proposal feels very connected to that framing. matrix conversation reference
Healthcare
I think this one is probably a pretty big one to bring up
Most of health care is not 'broken' but a system 'intentionally designed' in a treatment and symptom-management first disease-industrial paradigm, rather than a prevention and proaction community based holistic care.
I come from a health background too, with the current state of healthcare in Australia and America, (and where around the world - adopting a processed industrial food systems diet) there is great urgency to shift towards a food system that priortises community health, food sovereignty, and agro-ecology
Landscape regeneration, bioregional ecological restoration in the age of Climate Emergency
Decolonising & the Anthropocene
My recent research shows that we're pretty much cactus already in terms of climate and social volatility in the next coming few years. Yet also, there is some hope, in that I sense and see scientific knowledge and indigenous wisdom's beginning to converge (necessarily so) in the areas of food systems, climate science, health and well being, landscape and wetlands restoration, purpose, spirituality, community, and work and co-operatives.
From learning how the Aborigines were indeed managing an estate that, despite a focus on local action, covered the continent of Australia, across different languages and families.
Heck, their spiritual and cultural practice did and continues to advocate for and protect Country, our waters, and all people. The understanding of intersectionality is important for us to navigate climate change.
I'm seeing how activism in BIPOC, Adani, Murray-Darling River intersects with social technologies, and how things could change with decentralised tech.
Some guiding research:
Sorry not sorry for this massive brain dump!! What I see potentially working out is topics broken up and workshop style groups to gather community input and experiences, and then regathering to share insights, suggestions and solutions.
Skillsets
Domain experts in areas of health care, food systems, climate/ecological science / (they could call in over the the day, contribute to a huge collective brain map / lightning talks)
Those engaging in support for Diversity and Inclusion, and sharing case studies, potentials, and cautions for inviting minorities/ not perpetuating extractive behaviours
Listening from those of the historical background of blockchain technologies/startups/decentralised web.
Labels
Discussion Topic
Contact
Your chat handle on #dweb-camp-2019-projects:matrix.org - @ mnin:matrix.org
The text was updated successfully, but these errors were encountered: