Join GitHub today
GitHub is home to over 28 million developers working together to host and review code, manage projects, and build software together.
Sign up
New issue

Have a question about this project? Sign up for a free GitHub account to open an issue and contact its maintainers and the community.

By clicking "Sign up for GitHub", you agree to our terms of service and privacy statement. We'll occasionally send you account related emails.

Already on GitHub? Sign in to your account
3D Shapes Drawing Test
#1350
Conversation
Before we can generify models and shape drawing with the new vertex and index buffer abstractions, we need a test to ensure that nothing breaks. This pull request adds such a test that will show us all 6 shape drawing functions transformed to show all 6 sides in 3D space. For the sake of testing, the test actually shows 8 transformations even if 2 of the sides shown are shown twice.
I can not guarantee that all of these functions are actually rendering correctly even on master right now, so some changes may be introduced later with these specific drawing functions. Eventually, we'll also need a 3D lighting test as well.
Merging #1350 into master will increase coverage by 1.57%.
The diff coverage is n/a.
@@            Coverage Diff            @@




#

#           master   #1350      +/-   ##
=========================================


+

 Coverage   13.63%   15.2%   +1.57%     
=========================================
  Files         168     168              
  Lines       17434   17434              
=========================================


+

 Hits         2377    2651     +274     


+

 Misses      15057   14783     -274
---
Continue to review full report at Codecov.
Legend - Click here to learn more
Δ = absolute <relative> (impact), ø = not affected, ? = missing data
Powered by Codecov. Last update 1ca0e67...54bd287. Read the comment docs.
Thank you for carrying on the tradition of not checking in garbage bits of a GMX.
@JoshDreamland you're welcome. Anyway, I am going to now merge this as-is so I can begin writing a new 3D models class. I did attempt this morning to do isometric projections of the shapes, but only discovered our transforms in GL1 are totally messed up so the Isometric projection only works in D3D9 right now. We have to look into the transform issues and clean up all of that like I wanted to do as a separate task. For now, this is the best way I can test 3D shapes consistently.
This was what I tried:
//

d3d_transform_set_rotation_x(-45);


//

d3d_transform_add_rotation_y(-45);


d3d_transform_set_rotation_axis

(

1

, 

1

, 

0

, -

45

);


d3d_transform_add_translation

(

45

, 

45

, 

0

);


d3d_draw_shape

(

0

, 

20

, test_texture);
Direct3D9 (Correct)
OpenGL1 (Wrong)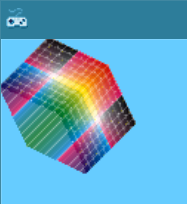 Anyway, going to merge this now, best to not conflate shapes with transforms and projection tests for now anyway.
added a commit that referenced this pull request Nov 10, 2018
Add this suggestion to a batch that can be applied as a single commit.
This suggestion is invalid because no changes were made to the code.
Suggestions cannot be applied while the pull request is closed.
Suggestions cannot be applied while viewing a subset of changes.
Only one suggestion per line can be applied in a batch.
Add this suggestion to a batch that can be applied as a single commit.
Applying suggestions on deleted lines is not supported.
You must change the existing code in this line in order to create a valid suggestion.
Outdated suggestions cannot be applied.
This suggestion has been applied or marked resolved.
Suggestions cannot be applied from pending reviews.