New issue

Have a question about this project? Sign up for a free GitHub account to open an issue and contact its maintainers and the community.

By clicking "Sign up for GitHub", you agree to our terms of service and privacy statement. We'll occasionally send you account related emails.

Already on GitHub? Sign in to your account
Unable to modify existing RN project to use single index.js entry point (both iOS and Android)
#16517
sunweiyang
opened this issue
Oct 24, 2017
· 8 comments
sunweiyang
opened this issue
Oct 24, 2017
· 8 comments
Comments
Is this a bug report?
Yes
Yes
Environment
Environment:
OS: macOS High Sierra 10.13
Node: 8.6.0
Yarn: 1.2.0
npm: 5.5.1
Watchman: 4.9.0
Xcode: Xcode 9.0.1 Build version 9A1004
Android Studio: 2.3 AI-162.4069837
Packages: (wanted => installed)
react: 16.0.0-beta.5 => 16.0.0-beta.5
react-native: 0.49.3 => 0.49.3
Steps to Reproduce
(Write your steps here:)
Have an existing React Native 0.48 project
Upgrade to React Native 0.49.3
Rename index.android.js to index.js, and delete index.ios.js
Use jsCodeLocation = [NSURL URLWithString:@"http://localhost:8081/index.bundle?platform=ios&dev=true"]; in AppDelegate.m
Expected Behavior
My expectation was that RN 0.49.* would know to use index.js as the entry point, but the packager and output suggested that it was still trying to use the old entry points (i.e. index.android.js).
Actual Behavior
The packager showed this output, suggesting that it was using old entry points:
Bundling `index.android.js`  [development, non-minified]  0.0% (0/1), failed.
error: bundling failed: Error
    at DependencyGraph._getAbsolutePath (/Users/sunw/Skale/Repos/skale-react-native/Skale/node_modules/metro-bundler/src/node-haste/DependencyGraph.js:305:11)
    at DependencyGraph.getDependencies (/Users/sunw/Skale/Repos/skale-react-native/Skale/node_modules/metro-bundler/src/node-haste/DependencyGraph.js:283:4236)
    at Resolver.getDependencies (/Users/sunw/Skale/Repos/skale-react-native/Skale/node_modules/metro-bundler/src/Resolver/index.js:129:5)
    at /Users/sunw/Skale/Repos/skale-react-native/Skale/node_modules/metro-bundler/src/Bundler/index.js:642:39
    at Generator.next (<anonymous>)
    at step (/Users/sunw/Skale/Repos/skale-react-native/Skale/node_modules/metro-bundler/src/Bundler/index.js:13:1336)
    at /Users/sunw/Skale/Repos/skale-react-native/Skale/node_modules/metro-bundler/src/Bundler/index.js:13:1496
    at <anonymous>
    at process._tickCallback (internal/process/next_tick.js:188:7)

Screenshots (Android and iOS, respectively):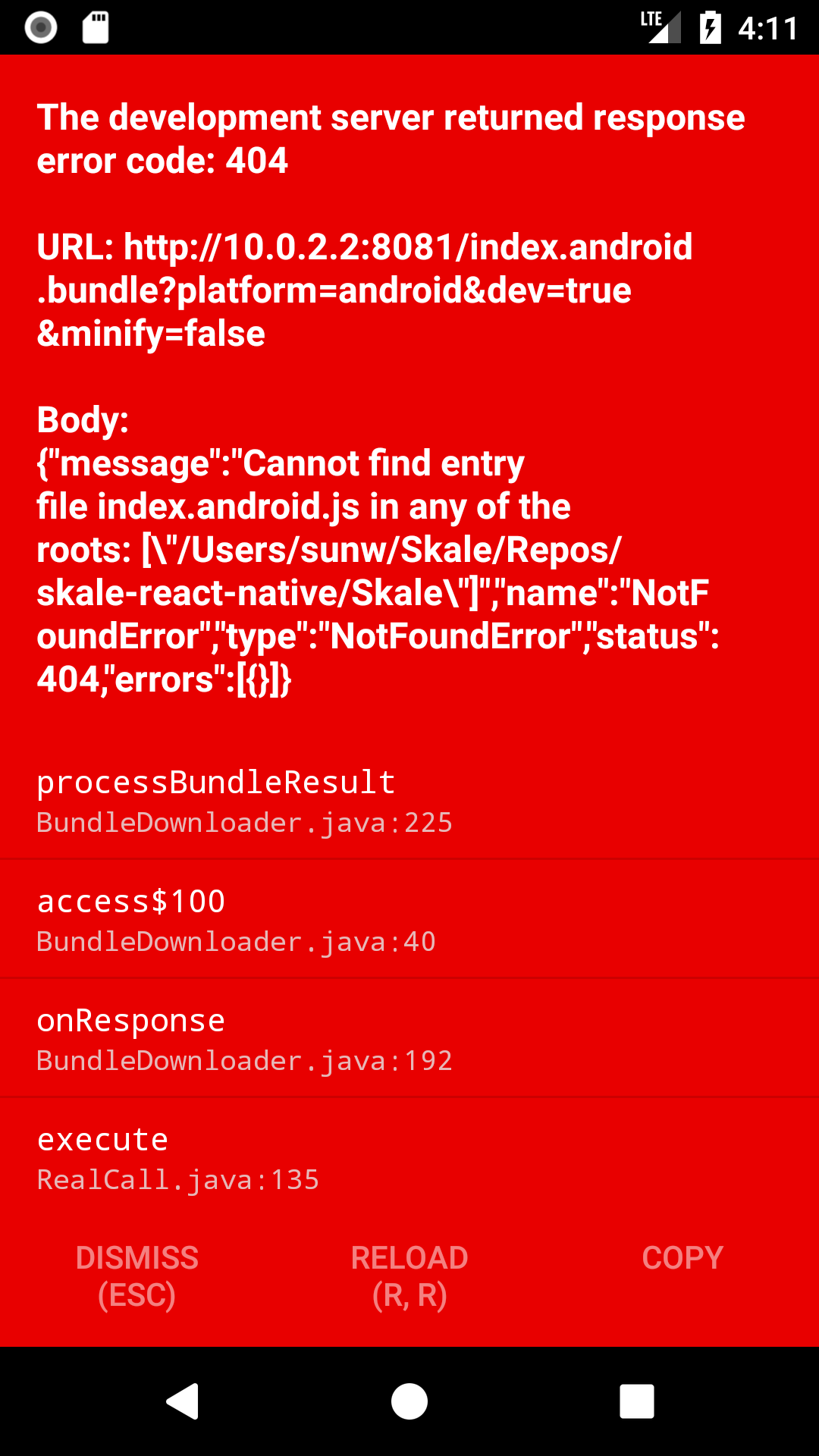 The text was updated successfully, but these errors were encountered: