Join GitHub today
GitHub is home to over 40 million developers working together to host and review code, manage projects, and build software together.
Sign up
New issue

Have a question about this project? Sign up for a free GitHub account to open an issue and contact its maintainers and the community.

By clicking "Sign up for GitHub", you agree to our terms of service and privacy statement. We'll occasionally send you account related emails.

Already on GitHub? Sign in to your account
Move successfully tested update from testing to stable and remove side and aux tags.
#3476
Comments
Story
As a user of multi-build gating,
when the tests of an update created for a side tag are finished successfully (i.e. an according gating decision has been announced on the message bus), I want Bodhi to:
add a comment documenting the decision to the update
tag its builds into the stable tag and out of the *-testing tag of the side tag
change the status of an update created for a side-tag to stable
and remove the side tag and its auxiliary tags
so that the update and the build artifacts contained in it are made available for the general public.
Background
pypingou's multi-build update workflow diagram [download]: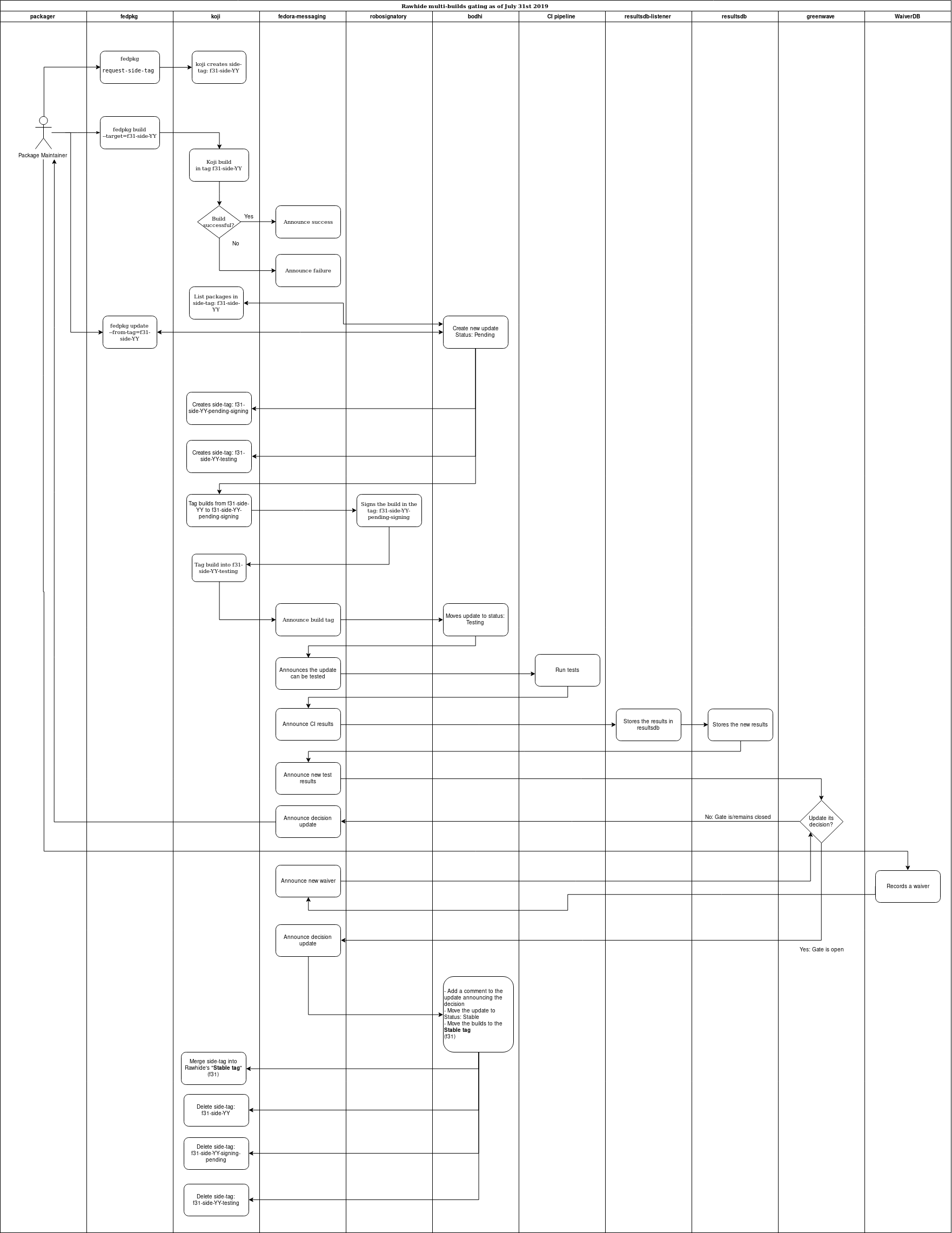 This card corresponds to the bottom-most bubble in the Bodhi column.
NB: This diagram is about the Rawhide workflow. Other inputs are going into this last step, like pushing the update because it spent enough time in testing (Update.autotime, which happens to default to 0 in Rawhide), or because it has gathered enough karma (Update.autokarma).
Not sure how far I'll get with this before going on vacation but I'll give it a shot.
nphilipp
self-assigned this
Aug 27, 2019
nphilipp
referenced this issue
Aug 28, 2019
After my first implementation attempt and some discussion, it seems that the first three items work already, in the greenwave consumer and the approve_testing script. I've implemented the last item in the script, too: PR #3489 which is WIP right now because there are no tests yet.