Join GitHub today
GitHub is home to over 31 million developers working together to host and review code, manage projects, and build software together.
Sign up
New issue

Have a question about this project? Sign up for a free GitHub account to open an issue and contact its maintainers and the community.

By clicking "Sign up for GitHub", you agree to our terms of service and privacy statement. We'll occasionally send you account related emails.

Already on GitHub? Sign in to your account
Package Basel OGD datasets
#11
Comments
A number of datasets were suggested by the administration of the Canton of Basel for the upcoming Hackdays. The following information is being translated, converted, and put into a Data Package: https://github.com/foodopendata/foodstats-basel
---
Wir haben rund um das Thema Food veröffentlichte Geodaten und Statistikdaten. Beides sind offene Daten, jedoch noch keine state of the art OGD. D.h. sie sind noch nicht nachhaltig veröffentlicht. Konkret handelt es sich um folgende Datensätze: z.B. http://www.statistik.bs.ch/zahlen/tabellen.html
Aussenhandel
Exporte
Importe
Transit
Landwirtschaft
Betriebe, Flächen, Tiere
Beide Themen sind auch im Indikatoren Portal und im Basler Atlas zu finden und können dort als CSV heruntergeladen/exportiert werden:
Leider nur auf dem Stadtplan und auf der Stadtplan-App angezeigt, (noch) nicht als einzelne Datensätze vorhanden:
Copy link
Contributor
Author
Copy link
Contributor
Author
Fun facts from this data, shared in the Hackdays team chat last weekend:
Chemical products account for 10x the value of all other products from the city combined
In 2016, according to T06.4.03.
The only industries visible on the graph of exports are textiles and precision machinery
This is also the product group that accounts for more than 50% of the export by weight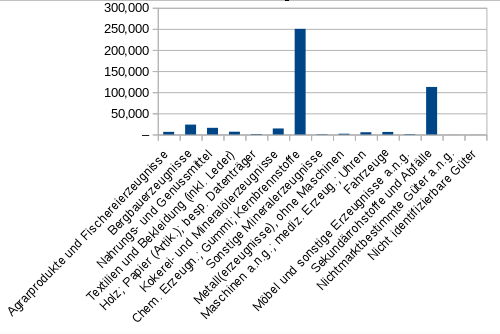 Recycling and waste accounting for about a quarter of the rest.
Just a couple decades ago at least, there was a sizeable population of agriculture workers
Now it's stabilized at around 50 in the entire canton. (It's a small canton). That must be a hard working bunch, shipping 22'000 tonnes (2016) of product per year!
Copy link
Contributor
Author
The Data Package has also been uploaded to the new DataHub for testing, though we are planning to publish it and others like it under an organisation and not private account. See: