Benotes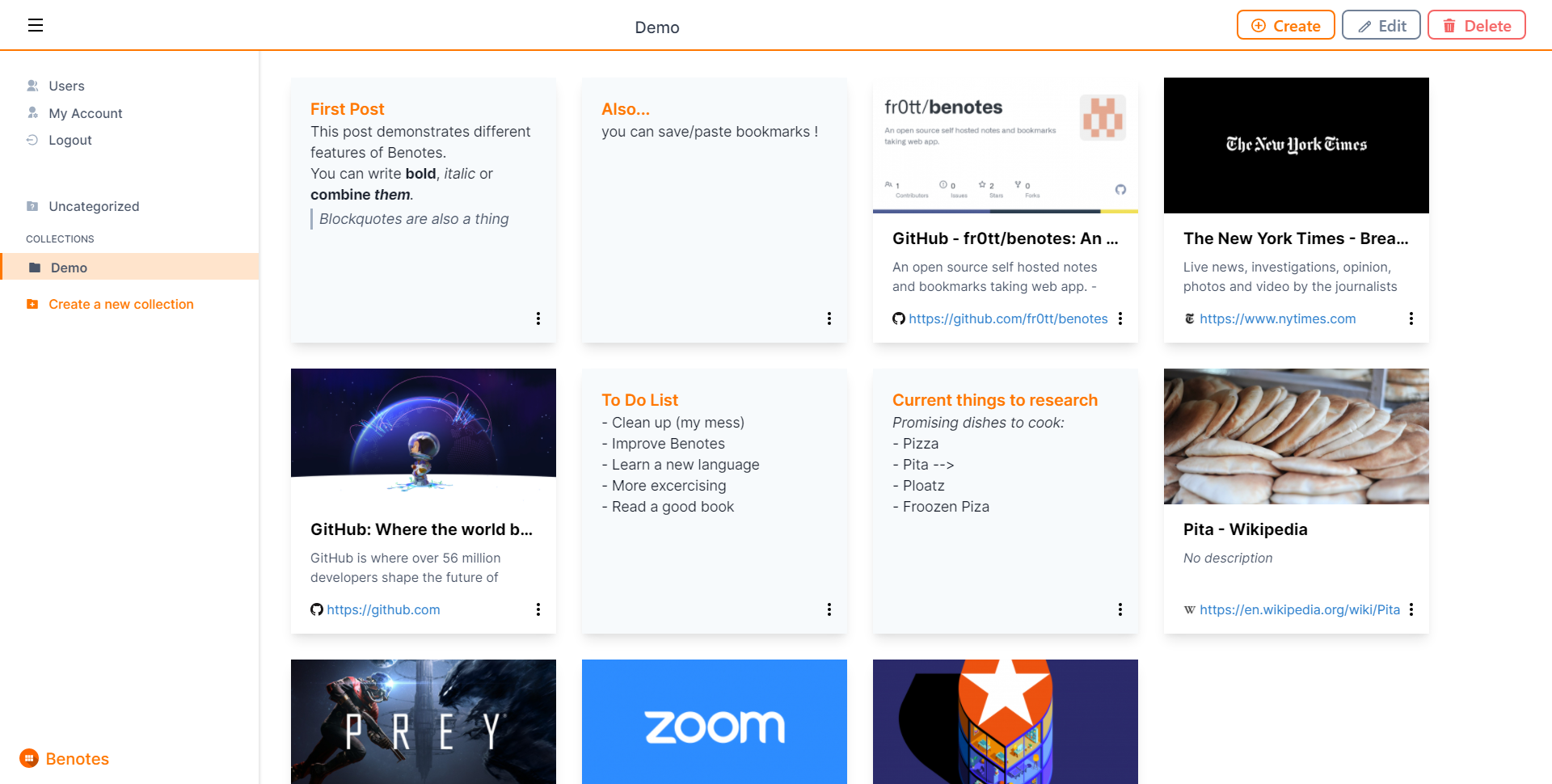 An open source self hosted web app for your notes and bookmarks side by side.
This project is currently in Beta. You may encounter bugs or errors.
Features
URLs are automatically saved with an image, title and description
supports both markdown and a rich text editor
can be installed as a PWA on your mobile devices (and desktop)
collections can be shared via a public available URL
links can be pasted (by pressing only one button)
can be hosted almost anywhere thanks to its use of the lightweight Lumen framework and well supported PHP language
Installation & Upgrade

Currently their are three options for you two choose from:
---
Feel free to contact me if you need any help or open an issue.
Rest API
Authentication

POST /api/auth/login

Logs in a user
| Attribute | Value |
| --- | --- |
| email | Required. |
| password | Required. |
POST /api/auth/refresh
Refreshes the JWT Token
GET /api/auth/me
Returns the authenticated user
POST /api/auth/logout
Logs out the authenticated user
---
Posts

GET /api/posts

Get multiple posts
| Attribute | Value |
| --- | --- |
| collection_id | Optional. Specify a collection of which you want to request posts. If collection_id is not specified you will get all posts from all collections from your user |
| is_uncategorized | Optional. Specify if you wish to get all posts without a collection. |
| limit | Optional. Limit the amount of requested posts by number |
GET /api/posts/{id}
Get one post by its id
POST /api/posts
Create a new post
| Attribute | Value |
| --- | --- |
| collection_id | Optional. Specify a collection you wish to save your new post to, if not, your post will not be part of a collection. |
| title | Optional. Specify a title, gets automatically filled if your content is a link |
| content | Required. Specify a link, post, message, .. |
PATCH /api/posts/{id}
Update an existing post
| Attribute | Value |
| --- | --- |
| collection_id | Optional. Specify a collection you want to save your post to instead. To patch a post from the uncategorized collection simply use 0 as value for the collection_id |
| title | Optional. Change your posts title |
| content | Optional. Change your posts content |
| order | Optional. Specify a new order you wish to move your post to |
DELETE /api/posts/{id}
Delete a post by its id