Join GitHub today
GitHub is home to over 31 million developers working together to host and review code, manage projects, and build software together.
Sign up
New issue

Have a question about this project? Sign up for a free GitHub account to open an issue and contact its maintainers and the community.

By clicking "Sign up for GitHub", you agree to our terms of service and privacy statement. We'll occasionally send you account related emails.

Already on GitHub? Sign in to your account
What is Metamask and why do I need it?
#4
Comments
(click here for a video overview for this content)
(request gas from our faucet here)
Primer -- Blockchain setup requires quite a few steps.
We are aware that the blockchain infrastructure is not yet mainstream. Part of the fun of navigating this new ecosystem is learning the new tools. We understand that it may be frustrating at first, but take a step back and enjoy the process! Trust us when we say that the tools are powerful and that the learning curve.
Theres a whole long thread on 'why web3 is important' here, but the TLDR is:
Web3 is borderless
Web3 is permissionless
Web3 is collaborative
Web3 is more efficient than web2 predecessors
Web3 enables you to reward others with ERC20 tokens.
OK.. Let's get onto the fun stuff... Setting your environment up for web3:
How to claim an issue
1. Install Metamask
What is Metamask and why is it important?
MetaMask is a browser plugin that allows users to make Ethereum transactions through regular websites. It facilitates the adoption of Ethereum because it bridges the gap between the user interfaces for Ethereum (eg. Mist browsers, Dapps) and the regular web (eg. Chrome, Firefox, websites). Without this, Ethereum cannot become mainstream because the regular web has a strong network effect which inhibits the average user from switching.
MetaMask injects a javascript library called web3.js into the namespace of each page your browser loads. web3.js is written by the Ethereum core team, and has functions that regular webpages can use to make read and write requests on the blockchain that are consistent with the existing protocol Source
2. Get some ETH
You should only need about 0.01 ETH to interact with the system. Submit a request to the Gitcoin Faucet in order to get some ETH!
Related: Why do I need ETH/Gas to use the system?
3. Get your Metamask account address.
Find it here, on the chrome extension: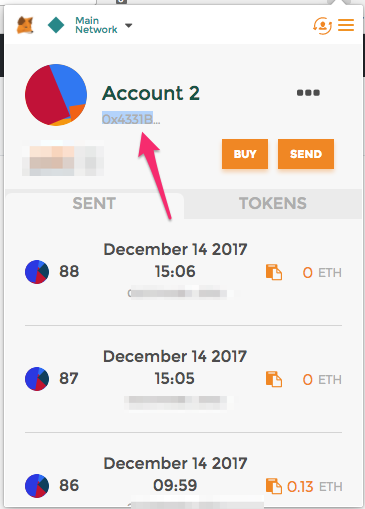 4. Send some ETH to the Metamask account address
Take the ETH you got from step 2 and send it to your Metamask account address.
5. Wait for the transaction to confirm.
You can monitor the tx status on https://etherscan.io . To monitor your transaction, put it into the search bar:
When the tx is done, you will see a green checkmark. Here is an example:
6. Submit the bounty form on gitcoin.
Press the button on gitcoin.co

and confirm the transaction on metamask:
7 (Optional) If you get an error, try resubmitting with a higher gas value.
You can try increasing by 10 gwei. If you want a precise estimate of the gas value to use, visit ETH Gas Station to get real time gas metrics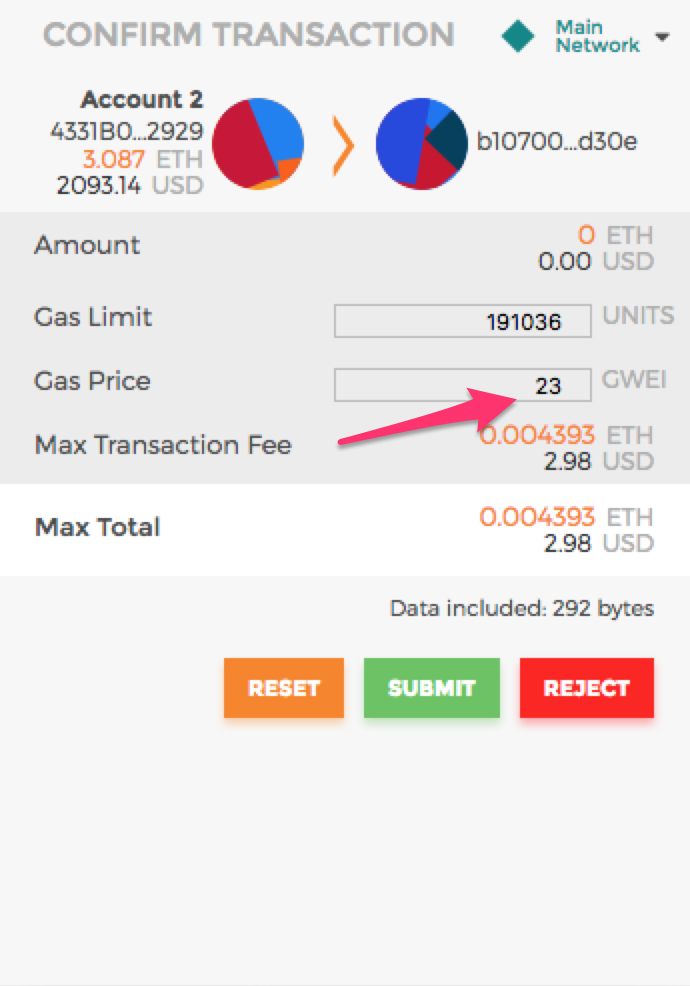 If improving the web was running an optimization problem, web2 would be a local maxima. Web3 is the global maxima.
Still need help? The community is here to help!
Comment below or ask on slack in the #community-help channel.. Please let us know
that you have metamask installed
what your ETH address is
what your balance is
what is preventing you from submitting the claim on web3
i just removed the google form for non-web3 submissions. it was confusing end users bc they thought they had claimed issues by submitting the google form (which was intended to just be useful for those looking for help) gitcoinco/web@566952f
#969 Integrate Portis as a web3.js provider