Join GitHub today
GitHub is home to over 31 million developers working together to host and review code, manage projects, and build software together.
Sign up
New issue

Have a question about this project? Sign up for a free GitHub account to open an issue and contact its maintainers and the community.

By clicking "Sign up for GitHub", you agree to our terms of service and privacy statement. We'll occasionally send you account related emails.

Already on GitHub? Sign in to your account
Cannot click on Github Enterprise on Sign in prompt
#1242
Comments
Hi!
I have a problem similar to #12 but reversed.
I cannot click on GitHub Enterprise both on VS2015 and VS2017.
Any ideas?
Hi @AmbroiseCouissin, thanks for writing in. Unfortunately, I'm unable to reproduce this myself, but another user recently reported the same issue as you.
Did this problem just start happening out of the blue, or did you recently update your extension?
Also, what version of the extension are you using?
Hi @meaghanlewis,
It was the first time I use the extension. Right after downloading VS 2015 and VS 2017 on a new computer.
The version is: 2.3.3.38
Cheers!
Hi @meaghanlewis ,
Yes, my tab looks like your picture.
The version of visual studio I am using are:
Microsoft Visual Studio Enterprise 2017 Version 15.3.5
Microsoft Visual Studio Enterprise 2015 Version 14.0.25431.01 Update 3
Cheers
Does your login prompt look like this, except with GitHub underlined?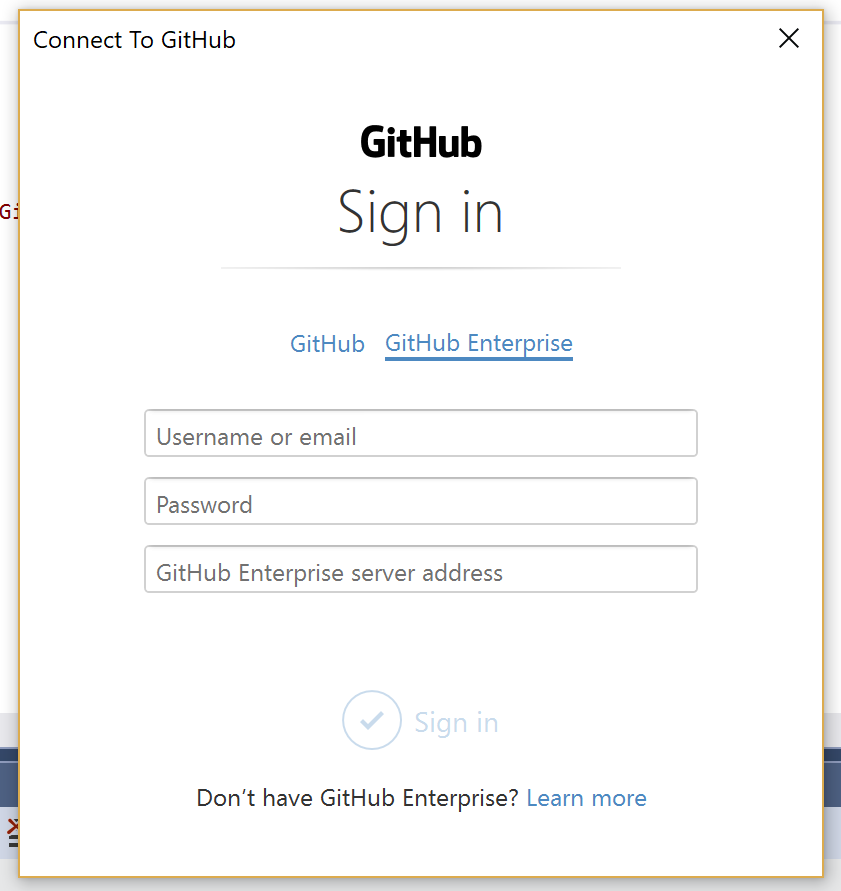 When I'm logged into GitHub, the prompt doesn't let me click on the GitHub option. I wonder if it's the same for you, except it thinks you're already logged into Enterprise. 😕
We think it might be related to this issue #1094.
Could you try the following:
Open Credential Manager from the Windows Start Menu
Click on Windows Credentials
Select the credentials related to your Enterprise server
Click on Remove
Now try to sign in using GitHub for Visual Studio.
@AmbroiseCouissin Just FYI, another user with this same issue had success with the above steps. 🤞 it will work for you as well.
This should have been fixed in #1277 and will be shipped in the next minor version.