New issue

Have a question about this project? Sign up for a free GitHub account to open an issue and contact its maintainers and the community.

By clicking "Sign up for GitHub", you agree to our terms of service and privacy statement. We'll occasionally send you account related emails.

Already on GitHub? Sign in to your account
Java (Maven): Use of insecure protocol to download/upload artifacts
#21
JLLeitschuh
opened this issue
Nov 21, 2019
· 4 comments
JLLeitschuh
opened this issue
Nov 21, 2019
· 4 comments
Comments
Published Research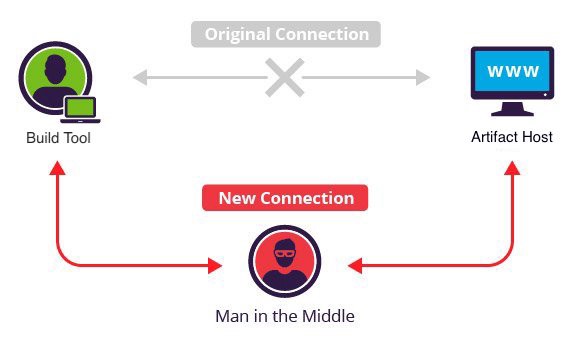 Want to take over the Java ecosystem? All you need is a MITM!
CVE ID(s)
CVE-2019-10248
CVE-2019-10249
CVE-2019-10249
CVE-2019-12728
CVE-2019-10102 
CVE-2019-11405
There are other projects without CVE numbers that need assignment still:
https://docs.google.com/spreadsheets/d/1zemxj8QdIp0saqvwJx6Po1KnyEmJXl2KC_0j0SLd_2E/edit#gid=0
Report
CWE-829: Inclusion of Functionality from Untrusted Control Sphere
CWE-494: Download of Code Without Integrity Check
At the beginning of 2019, I began a multi-month long research project into the use of HTTP instead of HTTPS across the Java ecosystem. I found that many of the most popular projects in the ecosystem were using HTTP to resolve and upload artifacts that those projects downloaded and built.
This included projects such as these:
Kotlin Compiler
Groovy Compiler
Jenkins
Many JetBrains projects
Many Apache projects
Many Eclipse projects
Gradle building itself
As part of this research, I reached out to many of the most popular artifact servers in the Java ecosystem and asked them to join an initiative to formally decommission the use of HTTP on January 15th, 2020.
Sonatype Maven Central
JFrog JCenter
Gradle
Spring
The links to the announcements by these organizations can be found here.
At the time, the team at Sonatype Maven Central let me know that after analyzing their traffic for a month, they determined that 25% of their downloads still used HTTP instead of HTTPS.
Are you planning to discuss this vulnerability submission publicly? (Blog Post, social networks, etc). We would love to have you spread the word about the good work you are doing
I already have, but would post an updated post after this was merged.
Query
Unfortunately, since QL doesn't allow me to create querries against Gradle build logic yet, I'm only currently able to support Maven Pom XML files. However, this should still cover ~50% of the entire Java build tool ecosystem.
The text was updated successfully, but these errors were encountered:
Currently, working on a draft for an article titled 'Update: Want to take over the Java ecosystem? All you need is a MITM!' which will mention this new QL query.
nicowaisman
added
PR merged
CodeQL team just merge the contribution
and removed
PR merged
CodeQL team just merge the contribution
labels
Dec 16, 2019
High severity-ranking
Payment order reviewed and 👍
Ready to 💰
xcorail
closed this as
completed
Jan 2, 2020
JLLeitschuh
mentioned this issue
Jan 4, 2020