Join GitHub today
GitHub is home to over 50 million developers working together to host and review code, manage projects, and build software together.
Sign up
New issue

Have a question about this project? Sign up for a free GitHub account to open an issue and contact its maintainers and the community.

By clicking "Sign up for GitHub", you agree to our terms of service and privacy statement. We'll occasionally send you account related emails.

Already on GitHub? Sign in to your account
runtime: gentraceback no longer skips stack frames when printing
#24628
Comments
I got some time today to finish up and add a rigorous test for CL https://go-review.googlesource.com/#/c/go/+/37222 which involves printing the top and bottom n frames for easy reading in case of a massive stackoverflow.
To detect that we are printing stackframes, we have this condition
and in order for it to work, we need to be able to skip a bunch of frames when printing the bottom n stack frames.
However, with code that we used to skip through physical frames previously, CL https://go-review.googlesource.com/37854 aka commit ee97216 changed that behavior assuming that we'd never use skip unless pcbuf != nil. However, we actually need to skip through physical frames when printing tracebacks otherwise on trying to print top and bottom stackframes, we always end up printing the top irrespective of our skip which is a regression that silently snuck in for an entire year as it wasn't used.
The code that disabled proper skipping is ee97216#diff-5a2de8a1053d4e11fbc71407a5361e93L321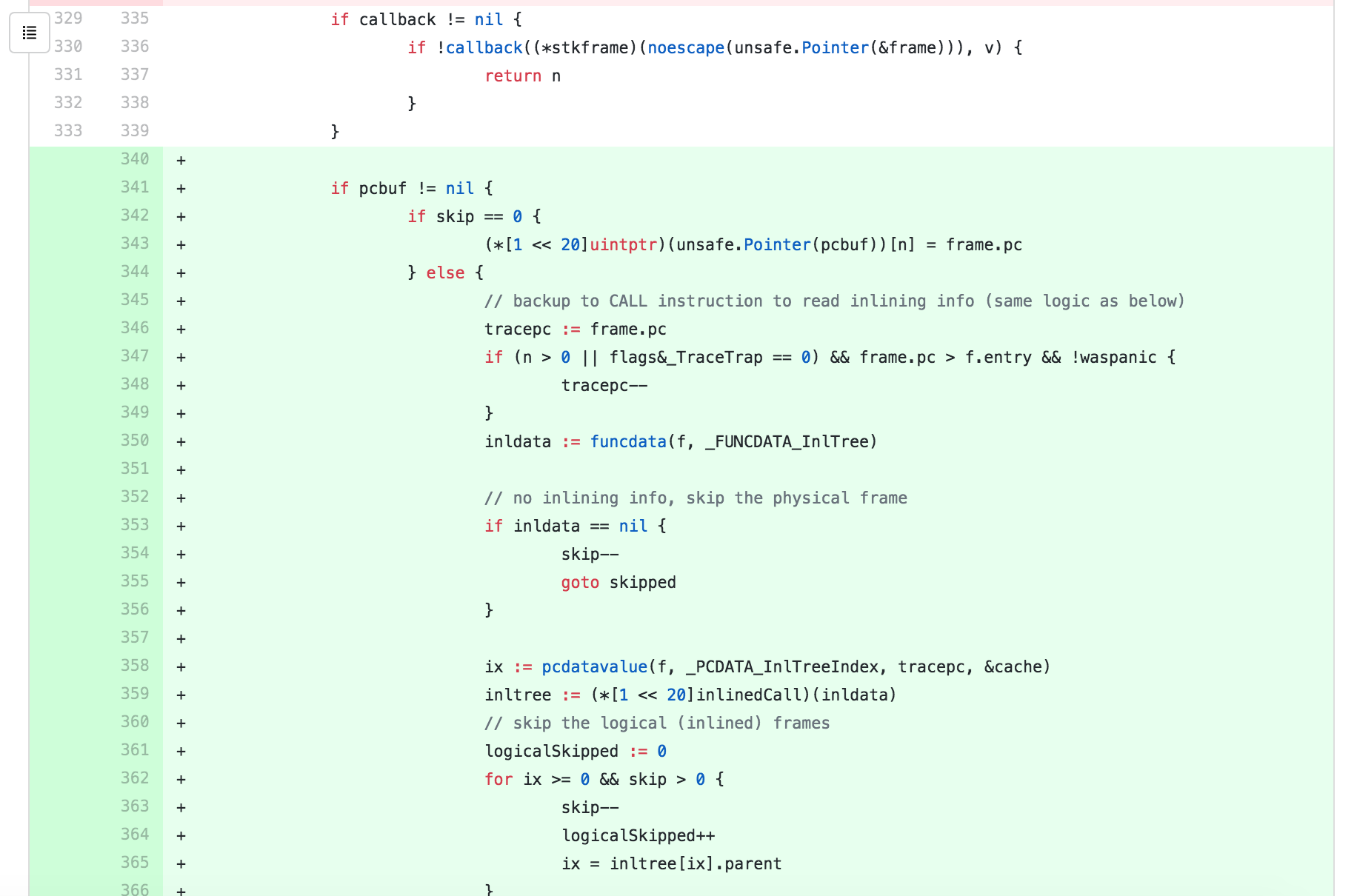 Is this a regression in a user-facing behavior, or just an internal function?
(I assume that it's blocking #7181; is that the only impact?)
bcmills
changed the title
runtime: stackframe skipping while printing regression as skips now only work if pcbuf != nil
Apr 2, 2018
bcmills
added this to the
Unplanned
milestone
Apr 3, 2018
andybons
added the
NeedsFix
label
Apr 16, 2018