Join GitHub today
GitHub is home to over 50 million developers working together to host and review code, manage projects, and build software together.
Sign up
New issue

Have a question about this project? Sign up for a free GitHub account to open an issue and contact its maintainers and the community.

By clicking "Sign up for GitHub", you agree to our terms of service and privacy statement. We'll occasionally send you account related emails.

Already on GitHub? Sign in to your account
runtime: high memory usage on Go 1.14
#37525
Comments
What version of Go are you using (go version)?
1.13.8 vs 1.14
Does this issue reproduce with the latest release?
Yes
What did you do?
I wanted to benchmark the go-etheruem full sync performance with the new Go release vs. the old one. Speed wise Go 1.14 is maybe 10-15% faster, but that's not what this issue is about.
What did you expect to see?
Faster execution at the same memory usage.
What did you see instead?
Side by side, go-ethereum built with:
Go 1.13 used (runtime.MemStats.Alloc) 7.5GB RAM and held (runtime.MemStats.HeapSys - runtime.MemStats.HeapReleased) 9GB
Go 1.14 used (runtime.MemStats.Alloc) 8.5GB RAM and held (runtime.MemStats.HeapSys - runtime.MemStats.HeapReleased) 11GB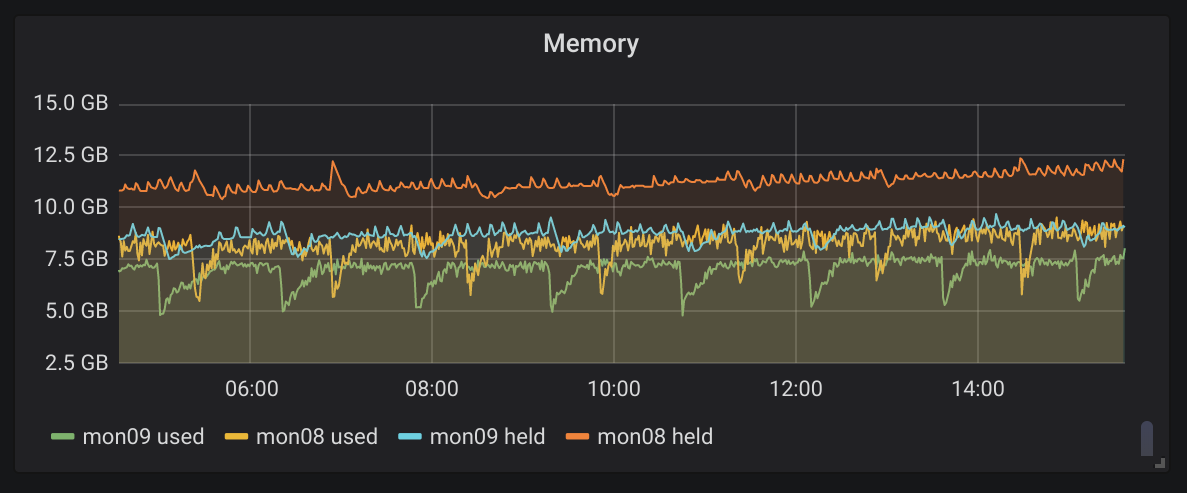 I've ran the tests on 4 VMs (two on Go 1.13 and two on Go 1.14), swapping the Go builds and restarting after a day to avoid false positives due to VM asymmetries. The results were the same on all 4 comparison runs. Go 1.14 was 10% faster and used significantly more memory.
---
At this point I'm unsure how I could help debug this further. Have there been any memory allocation changes made in Go 1.14 that could point towards heavier use? We do maintain significant in-memory caches, some large blobs, some tiny tiny slices. Perhaps some internal map field got more expensive?