New issue

Have a question about this project? Sign up for a free GitHub account to open an issue and contact its maintainers and the community.

By clicking "Sign up for GitHub", you agree to our terms of service and privacy statement. We'll occasionally send you account related emails.

Already on GitHub? Sign in to your account
x/tools/gopls: compiler errors disappearing and reappearing in unopened test files
#38267
Comments
Please answer these questions before submitting your issue. Thanks!
What did you do?
I was working on one file in a project that fully compiles and runs. I can publish it if needed.
What did you expect to see?
No errors; the code compiles.
What did you see instead?
Randomly, I'd see that one of the files had a bunch of compiler errors. But, I'd go open the file and they'd disappear. Close the file, and they'd come back. I could modify another file in the package and they'd disappear and come back some time in the future. This happens reliably in this project.
LSP logs: https://gist.github.com/zikaeroh/89ddc6f1b444b756cc44195f607481ad
Screenshots of what VS Code is showing me in one file, versus moving to the file with the errors: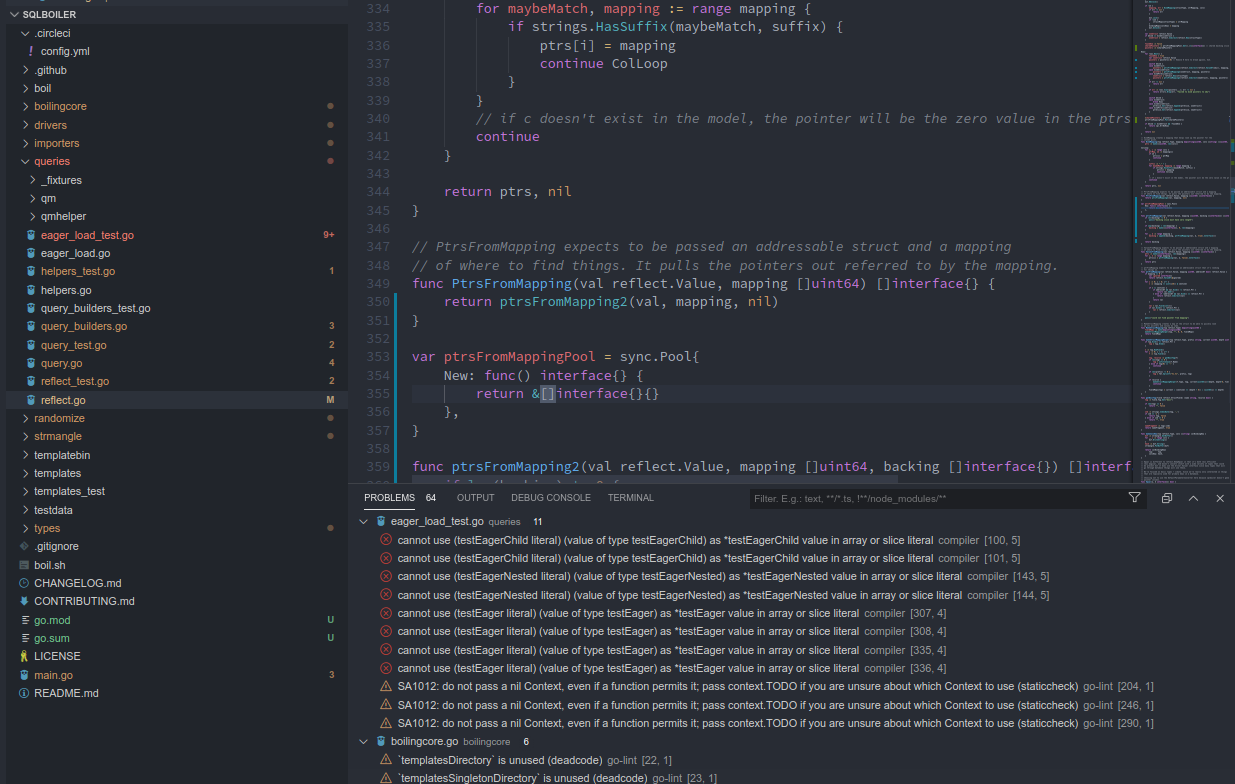 Build info
golang.org/x/tools/gopls master
    golang.org/x/tools/gopls@v0.1.8-0.20200403190813-44a64ad78b9b h1:VVxELAabDbd0ccBLh29rD/dcK4BkwiQUTgNJrzUqezQ=
    github.com/BurntSushi/toml@v0.3.1 h1:WXkYYl6Yr3qBf1K79EBnL4mak0OimBfB0XUf9Vl28OQ=
    github.com/sergi/go-diff@v1.1.0 h1:we8PVUC3FE2uYfodKH/nBHMSetSfHDR6scGdBi+erh0=
    golang.org/x/mod@v0.2.0 h1:KU7oHjnv3XNWfa5COkzUifxZmxp1TyI7ImMXqFxLwvQ=
    golang.org/x/sync@v0.0.0-20190911185100-cd5d95a43a6e h1:vcxGaoTs7kV8m5Np9uUNQin4BrLOthgV7252N8V+FwY=
    golang.org/x/tools@v0.0.0-20200403190813-44a64ad78b9b h1:AFZdJUT7jJYXQEC29hYH/WZkoV7+KhwxQGmdZ19yYoY=
    golang.org/x/xerrors@v0.0.0-20191204190536-9bdfabe68543 h1:E7g+9GITq07hpfrRu66IVDexMakfv52eLZ2CXBWiKr4=
    honnef.co/go/tools@v0.0.1-2020.1.3 h1:sXmLre5bzIR6ypkjXCDI3jHPssRhc8KD/Ome589sc3U=
    mvdan.cc/xurls/v2@v2.1.0 h1:KaMb5GLhlcSX+e+qhbRJODnUUBvlw01jt4yrjFIHAuA=

Go info
go version go1.14.1 linux/amd64


The text was updated successfully, but these errors were encountered: