New issue

Have a question about this project? Sign up for a free GitHub account to open an issue and contact its maintainers and the community.

By clicking "Sign up for GitHub", you agree to our terms of service and privacy statement. We'll occasionally send you account related emails.

Already on GitHub? Sign in to your account
x/tools/internal/lsp/regtest: regression tests for on-disk file changes failing on darwin builders
#40099
Comments
The test added in CL 238917 are not passing on darwin builders: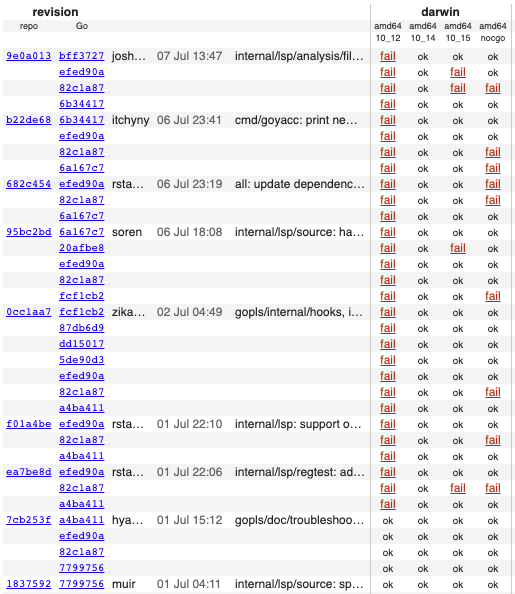 (From https://build.golang.org/?repo=golang.org%2fx%2ftools.)
The errors mention "context deadline exceeded" and the tests are running for over 8 minutes:
[...]
            runner.go:210: Shutdown: context deadline exceeded
FAIL
FAIL	golang.org/x/tools/internal/lsp/regtest	530.597s

/cc @stamblerre
The text was updated successfully, but these errors were encountered:
Looks like my CL still hasn't fixed the issue. I believe that this is the same builder that is mentioned in #39802, and I'm not sure how to debug this further given that it is specific to this builder. I suppose I can try using Gomote, but before I do that, @dmitshur, are there any known issues with that builder?
are there any known issues with that builder?
I can't think of anything relevant off the top of my head, and the "notes" field at https://farmer.golang.org/builders is empty. In general, the darwin builders are known to be somewhat more troublesome compared to some other builders, and "darwin-amd64-10_12" is the oldest darwin builder. (The older a builder, the more likely it is to have problems that might be fixed in newer versions.) If this turns out to be a builder problem, we should try to fix it or document it. /cc @cagedmantis @toothrot
Debugging via a Gomote should be a good way to try learn more.
Bumping this up as other failures may be hidden by this if they're not fixed.
We should investigate further using gomote and if no underlying cause can be found soon, we should at least disable the test with a bug to track re-enabling it.
Yep, sorry about the delay, I plan to take a look at this soon. We shouldn't disable the tests though, because this is clearly a problem specific to one builder.