Join GitHub today
GitHub is home to over 50 million developers working together to host and review code, manage projects, and build software together.
Sign up
New issue

Have a question about this project? Sign up for a free GitHub account to open an issue and contact its maintainers and the community.

By clicking "Sign up for GitHub", you agree to our terms of service and privacy statement. We'll occasionally send you account related emails.

Already on GitHub? Sign in to your account
x/tools/gopls: bad quick fix title for go mod tidy suggestion
#40659
Comments
Issue Type: Bug
Once you add a library that is not in go.mod, you get a helpful hint. However, the quick fix shortcut shows %s instead of the path to be added (even if you highlight the offending line).
Now the popup: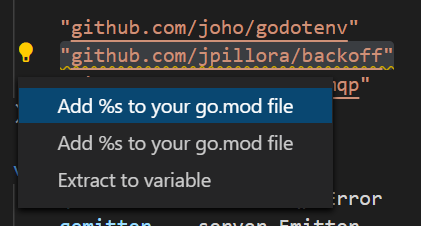 Extension version: 0.16.1
VS Code version: Code - Insiders 1.48.0-insider (2277c8e2a3e1cc630a6397301ba54a1dccd8a60d, 2020-08-07T11:32:09.993Z)
OS version: Windows_NT x64 10.0.19042
System Info

Item
Value
CPUs
Intel(R) Core(TM) i7-8650U CPU @ 1.90GHz (8 x 2112)
GPU Status
2d_canvas: enabled
flash_3d: enabled
flash_stage3d: enabled
flash_stage3d_baseline: enabled
gpu_compositing: enabled
multiple_raster_threads: enabled_on
oop_rasterization: disabled_off
protected_video_decode: enabled
rasterization: enabled
skia_renderer: disabled_off_ok
video_decode: enabled
viz_display_compositor: enabled_on
viz_hit_test_surface_layer: disabled_off_ok
webgl: enabled
webgl2: enabled
Load (avg)
undefined
Memory (System)
15.84GB (0.60GB free)
Process Argv
Screen Reader
no
VM
10%