New issue

Have a question about this project? Sign up for a free GitHub account to open an issue and contact its maintainers and the community.

By clicking "Sign up for GitHub", you agree to our terms of service and privacy statement. We'll occasionally send you account related emails.

Already on GitHub? Sign in to your account
x/pkgsite: markdown in "overview" should behave like markdown on Github
#41179
Comments
What is the URL of the page with the issue?
https://pkg.go.dev/github.com/getyoti/yoti-go-sdk/v3?tab=overview
What is your user agent?
Mozilla/5.0 (Windows NT 10.0; Win64; x64) AppleWebKit/537.36 (KHTML, like Gecko) Chrome/84.0.4147.135 Safari/537.36
Screenshot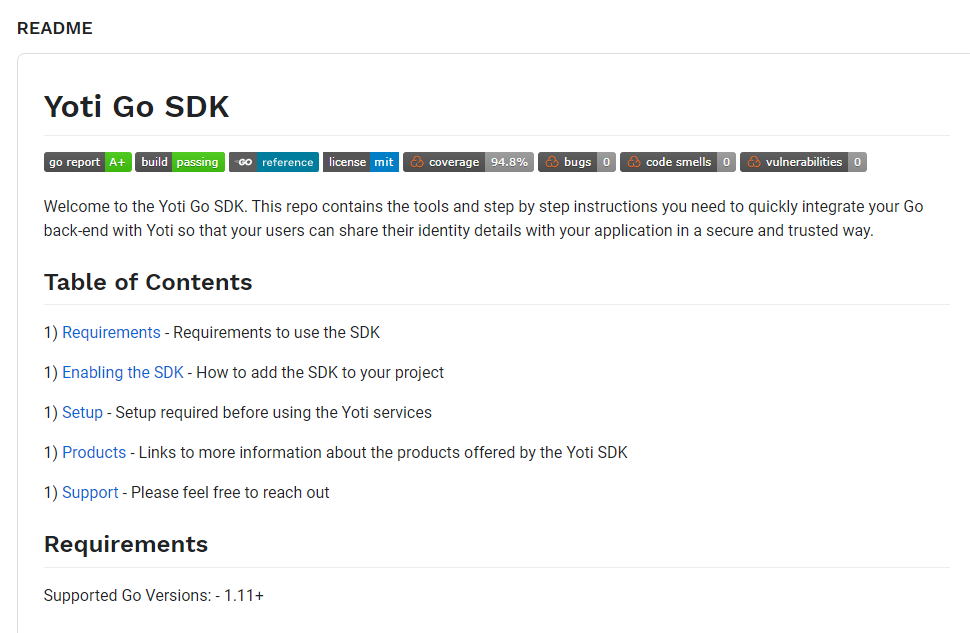 What did you do?
Loaded package overeview
What did you expect to see?
The list items to be formatted like they are on GitHub (https://github.com/getyoti/yoti-go-sdk):

i.e. even though they're listed as 1)s, they display sequentially when the markdown is rendered:
What did you see instead?
As in "Screenshot" section, numbers are all 1)s, rather than sequential
The text was updated successfully, but these errors were encountered:
gopherbot
added this to the
Unreleased
milestone
Sep 2, 2020
dmitshur
added
NeedsInvestigation
pkgsite
labels
Sep 2, 2020