Join GitHub today
GitHub is home to over 31 million developers working together to host and review code, manage projects, and build software together.
Sign up
New issue

Have a question about this project? Sign up for a free GitHub account to open an issue and contact its maintainers and the community.

By clicking "Sign up for GitHub", you agree to our terms of service and privacy statement. We'll occasionally send you account related emails.

Already on GitHub? Sign in to your account
TrustToken - Due diligence
#126
Comments
🔥 Update 17 May 2018 - The latest statement made by Stephen Kade in the Bankorus chat saying that he is transitioning from CTO of Bankorus to CTO Advisory contradicts what he previously wrote, stating that Bankorus should not have listed him as the CTO, and misrepresented his relationship with them. 🔥
🔥 Update 10 May 2018 - Stephen Kade has confirmed that he is not the CTO of Bankorus 🔥
🔥 Update 10 May 2018 - User unbanned 🔥
‼️ User banned for asking if Trust Token Co-founder Stephen Kade is CTO of Bankorous (Ongoing ICO). ‼️
Stephen Kade does not mention Bankorous in his linkedin profile
Stephen Kade as CTO on Bankorus website
May 8 2018 - User asked the Trust Token team to confirm if Co-founder & COO Stephen Kade is aslo CTO of Bankorous an ongoing ICO.
User was banned from the Trust Token chat and his questions were deleted.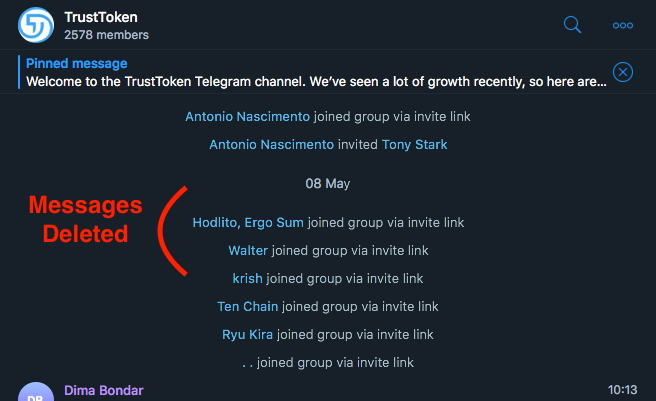 Bankorus confirmed that Stephen Kade is their CTO
Team
Advisors
Company
TRUSTTOKEN, INC.
File Number: 6518543
Incorporation Date / Formation Date: 21 Aug 2017
Entity Kind: Corporation
Entity Type: General
Residency: Domestic
State: Delaware
Office Address:
325 9th St
San Francisco
CA 94103
USA
Registered Agent Information:
VCORP SERVICES, LLC
1013 CENTRE ROAD SUITE 403-B
WILMINGTON
New Castle County
Delaware 19901
USA
Directors
Daniel Jaiyong An | Director, Executive
Smart contract
Github
Commits
Product
Vesting
Team Tokens vest over 4 years
Additional info
White Paper not available to the Public
Potential investors must complete the pre-sale application and accreditation process to have access to the white paper.
Token distribution
Token allocation
Privacy policy ‼️
‼️ Trust Token asks for personal data when potential investors fill out the pre-sale application but does not have a privacy policy ‼️
TrustToken Flags
Real Team: ✅ Update 10 May 2018 - Stephen Kade has confirmed that he is not the CTO of Bankorus.
GitHub: ✅
Smart Contract: -
Working Product: -
+2 yr Vesting for team: Team tokens vest over 4 years. Check if codified.
Have a company: ✅
Transparent: ❌ User banned and his messages were deleted for asking if COO Stephen Kade is CTO of Bankorus. Update 10 May 2018 - User ubanned. Stephen Kade Contradicted himself by admitting that he is the CTO of Bankorus.
IcoCheck.io
This comment has been minimized.
Copy link
Collaborator
Author