This repository has been archived by the owner. It is now read-only.
Nucleus Vision - Due diligence
#25
Comments
Team
Advisors
Censorship
Admin (Advisor: Prabhakar Reddy) deleted legitimate questions and banned users that asked them. (questions asked on 22 Dec 2017).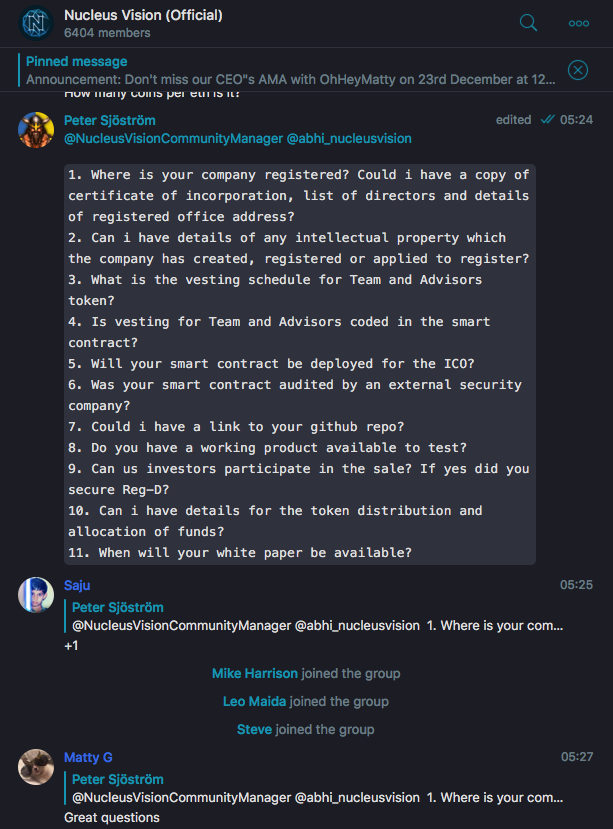 Searching for Company info
Bell Boi, Inc. on the footer of nucleus.vision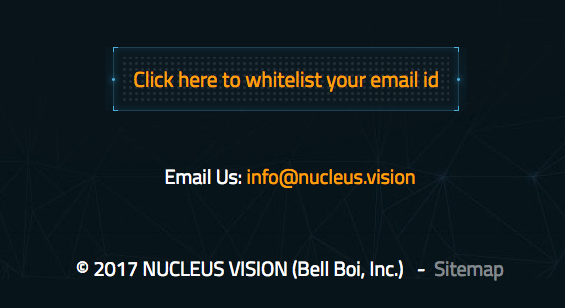 BELL BOI INC (To verify)
File Number: 5508075
Incorporation Date / Formation Date: 4 Apr 2014
Entity Kind: Corporation
Entity Type: General
Residency: Domestic
State: DELAWARE
Bellboi.com on internet achive shows footer with Alabama Address

Address: 351 Nisbet St NW, #515,
Jacksonville, Alabama USA 36265
Phone: 312 238 9840
Email: info@bellboi.com
Web: www.bellboi.com
bellboi.com Terms and conditions points to BellBoi Technologies Private Limited
BellBoi Technologies Private Limited (India)
CIN: U72200TG2014PTC095180
Company Name: BELLBOI TECHNOLOGIES PRIVATE LIMITED
ROC Code: RoC-Hyderabad
Registration Number: 095180
Company Category: Company limited by Shares
Company SubCategory: Non-govt company
Class of Company: Private
Authorised Capital(Rs): 1000000.0
Paid up Capital(Rs): 454500.0
Number of Members(Applicable in case of company without Share Capital): 0
Date of Incorporation: 08/08/2014
Registered Address 4-6-118, RAM BAGH ATTAPUR HYDERABAD Hyderabad TG 500048 IN
Address other than R/o where all or any books of account and papers are maintained: -
Email Id: avinash.pitti@gmail.com
Whether Listed or not: Unlisted
Suspended at stock exchange: -
Date of last AGM: 28/09/2015
Date of Balance Sheet: 31/03/2015
Company Status(for efiling): Active
Directors/Signatory Details
AVINASH PITTI
DIN/PAN: 02537262
Begin date: 08/08/2014
ABHISHEK PITTI
DIN/PAN: 05117789
Begin date: 08/08/2014
Other Directorship for AVINASH PITTI & ABHISHEK PITTI:
LORVENSOFT TECHNOLOGY PRIVATE LIMITED | CIN: U72400TG2009PTC063190
CALDRON TECHNOLOGIES PRIVATE LIMITED | CIN: U72400TG2013PTC086718
BELLBOI TECHNOLOGIES PRIVATE LIMITED | CIN: U72200TG2014PTC095180
MOP NETWORKS PRIVATE LIMITED | CIN: U92412WB2015PTC208641
INTERNATIONAL TIMBERS PRIVATE LIMITED | CIN: U74999TG2017PTC118726
Indian registrar - Ministry of Corporate Affairs
Smart contract
Smart contract is not available yet
Github
Commits
Last public commit Nov 2017
Product
Bellboi.com on internet achive dated 23 july 2016 shows sms enabled product
Walk into any participating store (or run) 10,000 stores and counting
Roadmap on nucleus.vision says launched in 10 stores
From 10,000 stores (webarchive dated 23 july 2016) to 10 stores in 2017?
Who were the 10,000 participating stores in 2016?
Vesting
Team says 2 year vesting for Team and Advisors tokens
This needs to be verified in the source code of the deployed smart contract when available
Additional info
Token distribution
Token allocation
Where is your company registered? Could i have a copy of certificate of incorporation, list of directors and details of registered office address?
Cayman Islands for the token-sale. I believe one of my advisors already mentioned to you that we have asked our lawyers whether we can or must share this info publicly. FYI, we are not accepting any funds from US (either in pre-sale or public sale). However, once we hear back from legal that this is okay, happy to do so.

Can i have details of any intellectual property which the company has created, registered or applied to register?
It'll be released in the white paper, along with our patent id's. Please wait for white paper.

What is the vesting schedule for Team and Advisors token?
2 years

Is vesting for Team and Advisors coded in the smart contract?
Yes

is your smart contract deployed for the ICO?
Not yet. Mainsale is still 45+ days away

Was your smart contract audited by an independent cybersecurity company?
It will be. Audit report will be published as well.

Could i have a link to your github repo?
Current GitHub hasn't been updated. We'll share it on the website once it has been.

Do you have a working product available to test?
Yes, it's live in retail stores in Mumbai, India

Has the code for your product been published, and has is been audited by an independent cybersecurity company?
No

Can us investors participate in the sale? If yes did you secure Reg-D?
No

Can i have details for the token distribution and allocation of funds?
Will be released in white paper

When will your white paper be available?
Legal is working slowly due to holidays. Should be soon.

Where is my money going and what will it be used for? Is my money going to be used to "cash out" others?
Will be released in white paper. Detailed breakdown for next 5 years is given.

What specific rights come with my investment?
nCash is a utility token, not a security. I'll await for legal to give me further info on this

Are there financial statements? If so, are they audited, and by whom?
Yes, but I don't believe we'll be making this public.

How, when, and at what cost can I sell my investment? For example, do I have a right to give the token or coin back to the company or to receive a refund? Can I resell the coin or token, and if so, are there any limitations on my ability to resell?
I advice you to not invest in our token-sale if that is the intent

If a digital wallet is involved, what happens if I lose the key? Will I still have access to my investment?
No comments on this

Has the offering been structured to comply with the securities laws and, if not, what implications will that have for the stability of the enterprise and the value of my investment?
FYI: We haven't taken any investment from you. Awaiting further info from legal counsel to answer your question

What legal protections may or may not be available in the event of fraud, a hack, malware, or a downturn in business prospects? Who will be responsible for refunding my investment if something goes wrong?
Awaiting legal counsel's answer on this

If I do have legal rights, can I effectively enforce them and will there be adequate funds to compensate me if my rights are violated?
Awaiting legal counsel's answer on this.
IcoCheck
The text was updated successfully, but these errors were encountered:
Hi, What's the censorship flag about NV?
Btw, thanks for your work!
@c0mm0n They deleted legitimate questions and banned users that asked them.
I will update this issue later on.
Thanks
icochecker
added
Future ICO
Public sale cancelled
and removed
Investigation
TBA
Future ICO
labels
Jan 26, 2018
To elaborate on @EzimetYusup 's point:
They have four repos.
One is Polynomial, which implements polynomial functions. I have no clue why it's there. It looks like it's copy-pasted, and irrelevant to the product.
IP_Forwarding is another repo that looks like a high school assignment to be done in 30 minutes or so.
Machine-Learning.... ooh yeah... we got some buzzwords!! The code is basic python demo code lifted off some tutorial. My absolute favourite is Machine-Learning/ML_2/kaggle_test_data.csv. The data they test on sample data lifted from a contest on https://www.kaggle.com/ . For those who don't know, Kaggle is a website where machine learning enthusiasts of various degrees of experience try to solve various challenges.
*The fourth repo is SmartContracts. I have no experience in Solidity, so I can't say if it's real or fake.
They say their github isn't updated (hasn't had a commit in months), but they link to it from their website. From a technical perspective, until and unless I see a real codebase with active development, I can't help but think of this as a scam. They may very well have a codebase they're working on that they haven't put on github, but that only means that what they have put up is to mislead non-technical people.
icochecker
added the
Added to icocheck.io
label
Feb 7, 2018
icochecker
closed this
Feb 20, 2018
Scam or not, seems Binance doesn't mind having them on board. They were just listed today. A shame. I will not be touching this project.
Looks like a total bs. I was just watching binance and doing a research and don't get a hype. How people can by a coin when they don't even have a product. Soundsa like dev team was busy selling ico then working on a project.
As of now, it's dumped 81.60% against BNB, 64.40% against BTC, and a whopping 85.52% against ETH. It's a good thing they didn't do a public sale. Whoever "invested" would be considerably out of pocket.