This repository has been archived by the owner. It is now read-only.
Sharder Protocol - Due diligence
#68
Comments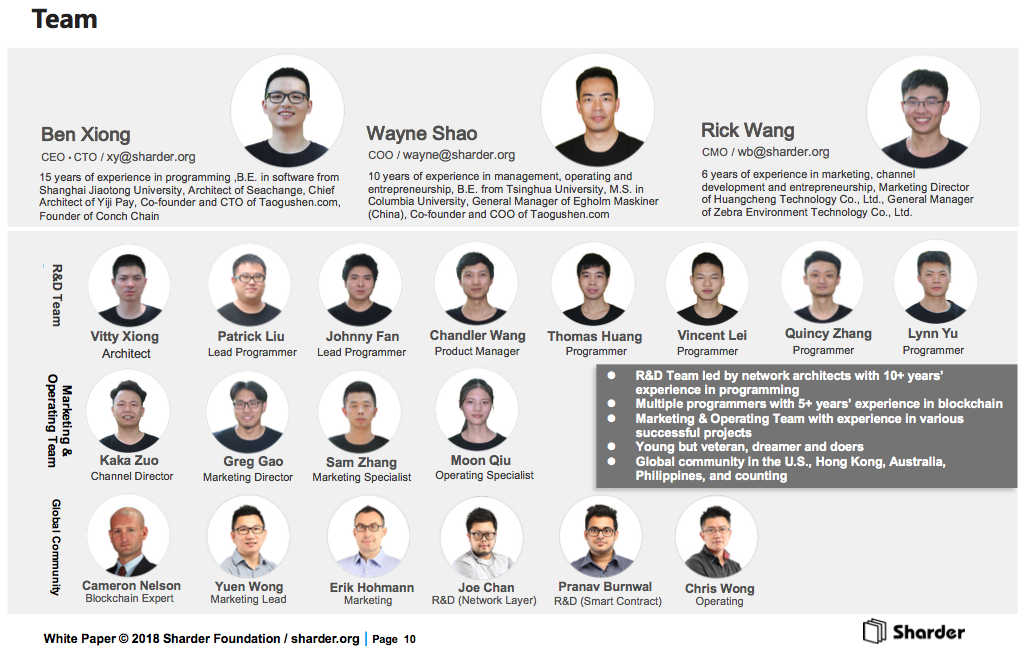 Team members with no mention of Sharder Foundation in their Linkedin profiles:
Team members with no Linkedin profiles:
Yu Xiong - Ben (CEO/CTO)
Bing Wang - Rick (CMO)
R&D Team
Yuetong Xiong - Vitty (Architect)
Xiangyu Liu - Patrick (Lead Programmer)
Qianglin Fan - Jonny (Lead Programmer)
Xincheng Wang - Chandler (Product Manager)
Tao Huang - Thomas (Programmer)
Xuewen Lei - Vincent (Programmer)
Quyan Zhang - Quincy (Programmer)
Lian Yu - Lynn (Programmer)
Marketing & operation team
Xinrong Zuo - Kaka (Channel Director)
Shengguo Gao - Greg (Marketing Director)
Yue Qiu - Moon (Operating Specialist)
Xia Zhang - Sam (Marketing Specialist)
Advisor
Company
SHARDER FOUNDATION PTE. LTD.
Registered Address:
152 BEACH ROAD
14-02
GATEWAY EAST
SINGAPORE 189721
UEN: 201803857W
Company Type Description: EXEMPT PRIVATE COMPANY LIMITED BY SHARES
Incorporation Date: 31 January 2018
Status: LIVE COMPANY
Smart contract
Github
Commits
Product
Vesting
Team Reserve tokens vest over 3 years.
Vesting for team tokens not coded in the smart contract
Additional info
Smart Contract address: 0xB15fE5a123e647ba594CEa7A1E648646f95EB4AA
Hard cap: 1500 ETHER
Soft cap: 1000 ETHER
Maximum contribution: 5.0 ETHER
Minimum contribution: 0.1 ETHER
Gas limit: 300,000
White Paper not available in English
Token distribution
Token allocation
Flags
Real Team: ✅
GitHub: ✅
Smart Contract: ✅
Working Product: ❌
+2 yr Vesting for team: ❌ Vesting for team tokens not coded in the smart contract
Have a company: ✅
Transparent: -
IcoCheck
The text was updated successfully, but these errors were encountered:
icochecker
changed the title
Sharder Protocol
Feb 13, 2018
icochecker
added the
Background check
label
Feb 13, 2018
Struggling to find the github repo for Qianglin Fan's bitcoin light wallet. Has anyone located it?