Join GitHub today
GitHub is home to over 40 million developers working together to host and review code, manage projects, and build software together.
Sign up
New issue

Have a question about this project? Sign up for a free GitHub account to open an issue and contact its maintainers and the community.

By clicking "Sign up for GitHub", you agree to our terms of service and privacy statement. We'll occasionally send you account related emails.

Already on GitHub? Sign in to your account
[easier if you have familiarity with node] review contributing docs and ensure project builds
#182
Comments
IT would be nice to review our contributing docs and make sure they have all the info you need in order to build this project.
Task:
Clone this repo and read through the contributing md.
Try to build a working copy of im-tables. If you're unsure about anything please ask for help by mentioning @yochannah and make sure to add these notes to our contributing docs for the next person.
Make a PR with any changes you've made to the docs.
if you want to pick up this task
Take a look at the InterMine contributing guidelines
Comment on this issue stating that you intend to work on the task
When you're ready, add your work to the repo and create a pull request.
What to do if you need help
Mention @yochannah, tweet @yoyehudi, pop by to say hi on chat or if needed email yo@intermine.org. Don't forget we're usually only available during uk office hours and will not be able to respond at other times :)
yochannah
added the
hacktoberfest
label
Oct 23, 2019
yochannah
added the
first-timers-only
label
Dec 20, 2019
@yochannah hi, I am actually new to open source, could you plz help me out in this, actually I'm trying to build a copy locally, but when im running npm start command it shows this error and i also tried it with sudo as well :
Hey @abhisheknaiidu - thanks for making a start with this task! You're right, that argument doesn't work anymore - I think the serve package must have discontinued it. Luckily,-p still works even where --port doesn't. I've pushed a tiny change to this GitHub repo - if you pull dev again does it work?
@yochannah hmm, when i pulled it again from this repo, then it doesn't show any error, but its not opening then also :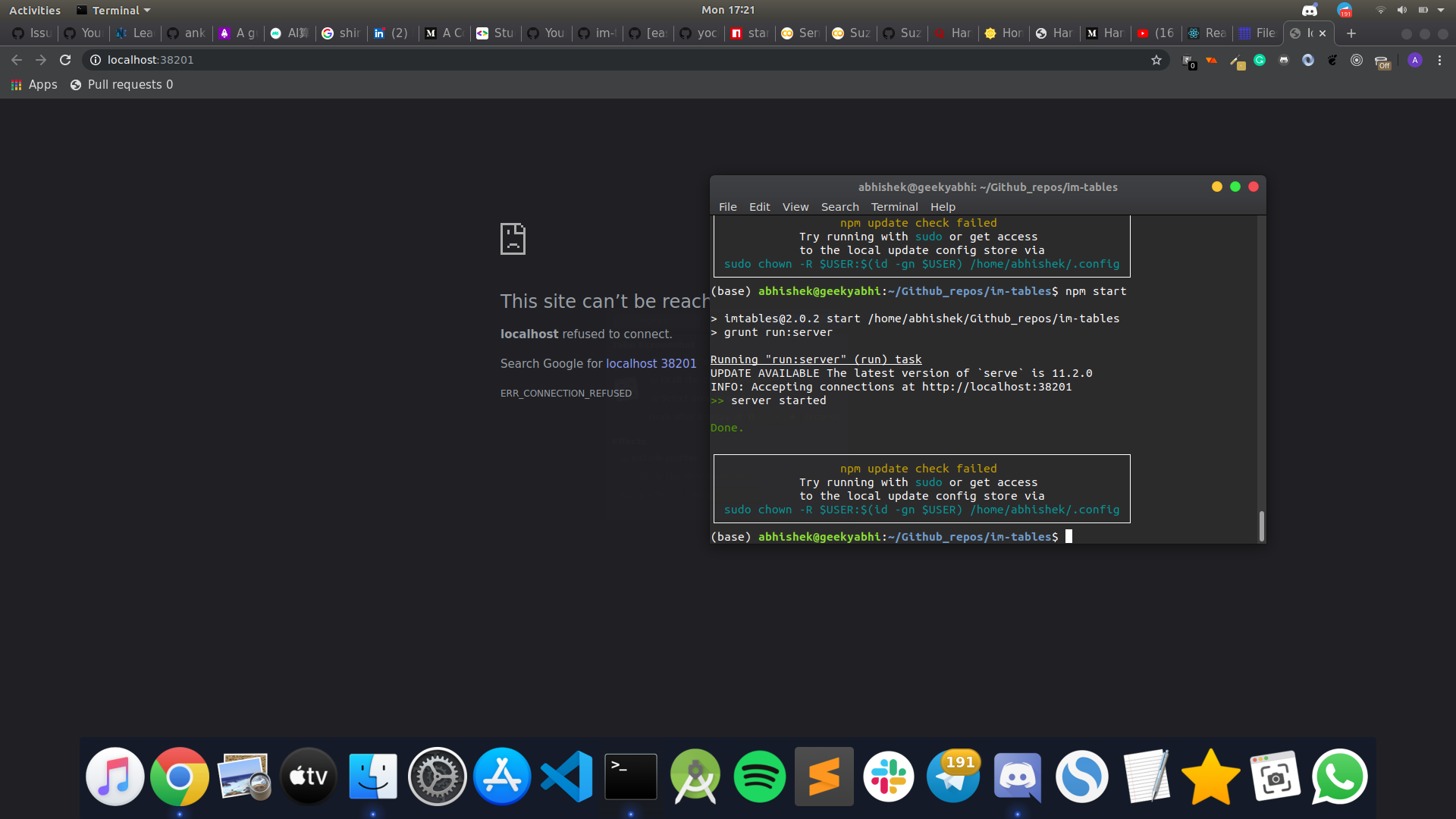 And when I run npm run dev command it shows this :
Right, so npm run dev does what I'd expect it to - that is good!
npm start still looks dodgy - let me see what is going on.
@yochannah have you figured that out ?? because even now also, I am not able to serve it properly in the browser.