Be notified of new releases
Create your free GitHub account today to subscribe to this repository for new releases and build software alongside 28 million developers.
Sign up
Summary
This is v2.2.0. Long time due, but finally we are here! 🎉
Installation
Release Highlights ✨
IPFS API exposed as window.ipfs
IPFS Companion is exposing a subset of IPFS APIs as window.ipfs on every webpage ✨
This means websites can detect that window.ipfs already exists and use it instead of spawning own js-ipfs node, which saves resources, battery etc.
Make sure to read our notes on window.ipfs in v2.2.0.
Additional background and open questions can be found in original issue: Expose IPFS API as window.ipfs (#330)
Some highlights below:
Embedded Node (js-ipfs)
We now provide a mechanism for switching between embedded and external IPFS nodes.
Embedded node is a fine fallback for situations when user needs to quickly share a file with someone or just wants to run a dapp against window.ipfs but has no third party IPFS daemon running locally.
User can provide own config (eg. to enable experimental pubsub) via Preferences (#395, visible only when embedded node type is selected)
UX Note: Embedded node does not run when external one is used. Every time you switch to Embedded node, a new instance is spawned on-demand, so it takes a few seconds for a brand new node to find peers:
Other Improvements
Protocol Indicator in Firefox
This feature is limited to Firefox – sorry Chrome users! :-)
Different color and tooltip are shown when resource was loaded via local gateway:
Demo (click to zoom):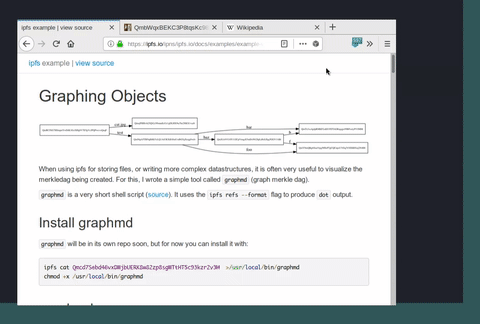 Page Actions in Firefox
To make things more intuitive, page-specific actions are available in a short menu under Protocol Indicator:
Support for simplified redirect-based protocol handlers without web+ prefix in Firefox >= 59
Still just a redirect and not a real protocol handler, but it is a step in the right direction.
More info: #164 (comment)
Known Issues
Want help?