Join GitHub today
GitHub is home to over 40 million developers working together to host and review code, manage projects, and build software together.
Sign up
New issue

Have a question about this project? Sign up for a free GitHub account to open an issue and contact its maintainers and the community.

By clicking "Sign up for GitHub", you agree to our terms of service and privacy statement. We'll occasionally send you account related emails.

Already on GitHub? Sign in to your account
WebUI: Tabelle "zu viel" in Geräteansicht bei CUxD Geräten
#260
Comments
Unter Status und Bedienung -> Geräte stellt sich ein gewöhnlicher HomeMatic-Aktor wie folgt dar:
Bei einem CUxD Gerät (28) erscheint unter den Schalter-Flächen eine zusätzliche Tabelle, was die Zeilen (insbesondere bei 16 Kanälen) unnötig vergrößert.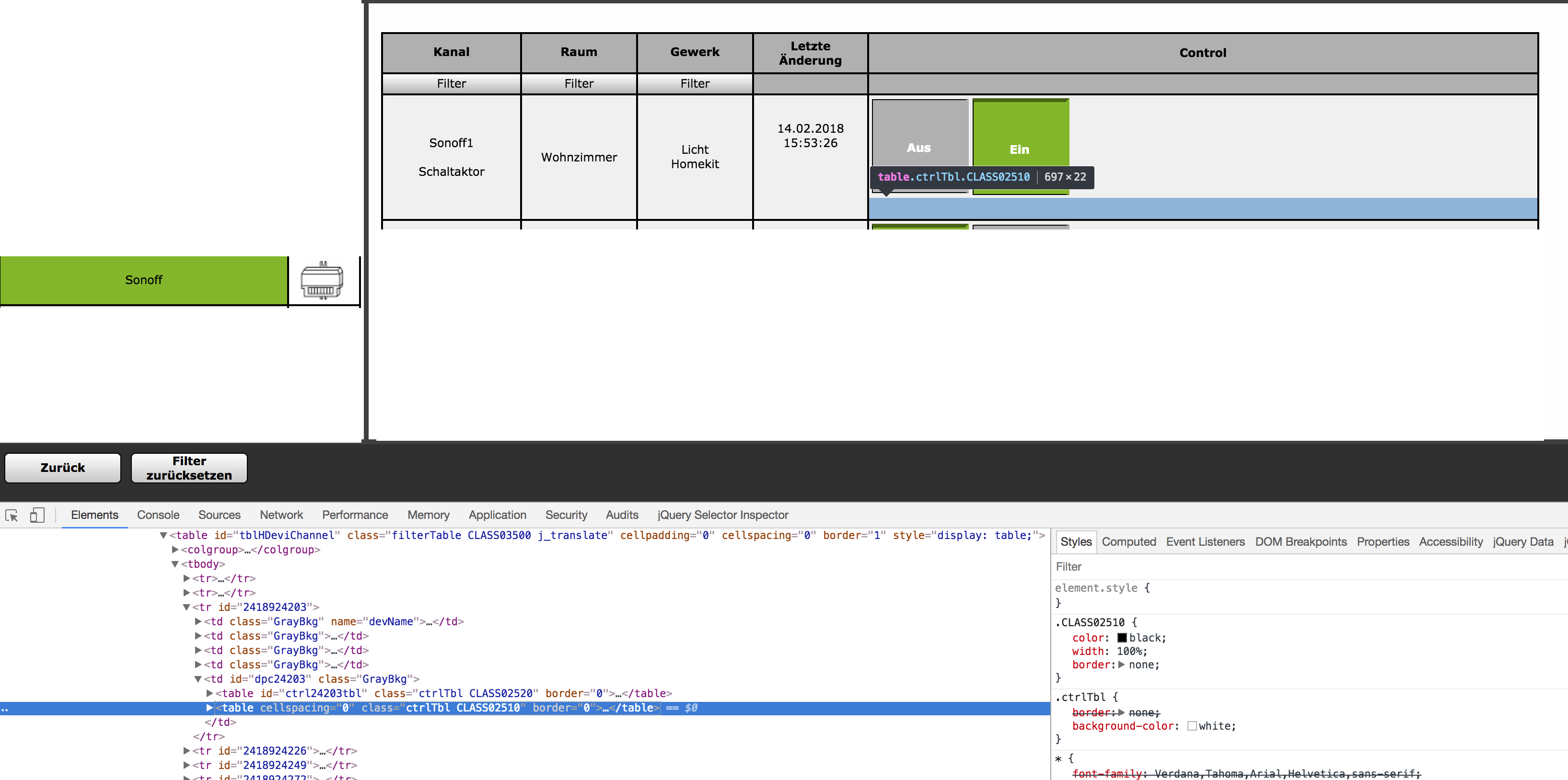 Ich bin mir nicht sicher, ob das Ticket hier richtig ist - oder eher zu CUxD gehört (oder sogar zum OCCU?)
Beste Grüße,
Jérôme
Wie immer bin ich offen für jeglichen Pull Request zum Thema WebUI Verbesserungen. ;)
Dat kommt ja irjendwo her, weils ein anderer da irjendwann mal reinprogrammiert hat ;)
Hatte gehofft du schreibst jetzt: Ah, das kommt vom CUxD Addon mit... oder so.
Fällt dann in die Rubrik: Is so, bleibt so, war schon immer so :)
Nicht weiter wild.
Könnte ich mit anschauen, ja. Aber meine Hoffnung war das sich mal langsam mehr und mehr Leute finden mitzuentwickeln, gerade wenn sie offensichtlich mit den Entwicklertools ihres Webbrowsers umgehen können ;)
Aber gut, dann kommt das halt auf die Liste, aber eben mit Low Priority. Auf der anderen Seite könntest du ja mal den Verursacher finden und damit das notwendige KnowHow aufbauen um in Zukunft noch mehr an der WebUI zu verbessern...
Ich bin nicht ganz abgeneigt (mit dem Addon hat es dann ja auch zum Schluss noch zu einem guten Ergebnis geführt!) - fange aber in Sachen WebUI bei Null (0 nicht null) ;) an.
Kannst du mir einen Hinweis geben, wo in den Tiefen des Ordners /www ich suchen muss?
Ich hatte schon nach Fragmenten des HTML-Elements gegrept, aber entweder keine oder sehr viele Ergebnisse bekommen :/
Nach etwas Recherche: Ich finde die CLASS ID nur in der
/www/rega/esp/datapointconfigurator.fn
Aber ich kann da ändern (und speichern [/ ist rw gemountet] so viel ich will... ReGaHss neu gestartet, RaspberryMatic neu gestartet, Browsercache gelöscht... Ich bekomme die Änderungen im Browser nicht angezeigt.
Habe ich noch einen Denkfehler?
jp112sdl
referenced this issue
Feb 14, 2018
jp112sdl
referenced this issue
Feb 27, 2018
jens-maus added this to the
2.31.x.20180324

milestone Mar 2, 2018