Join GitHub today
GitHub is home to over 40 million developers working together to host and review code, manage projects, and build software together.
Sign up
New issue

Have a question about this project? Sign up for a free GitHub account to open an issue and contact its maintainers and the community.

By clicking "Sign up for GitHub", you agree to our terms of service and privacy statement. We'll occasionally send you account related emails.

Already on GitHub? Sign in to your account
[Batch] Change State: pass only affected items to table and event
#22851
Conversation
Summary of Changes
When you currently change the state of items (published, unpublished, trashed...)in the list via inline or toolbar button, joomla does not care about the current state of the item.
This affects the notification (x items published...) and more importantly it also affects the primary keys that are passed to the onContentChangeState event (it passes all primary keys of all selected items including the ones where the state did not change). A plugin that listens to this event has no possibility to check if i.e. an article was unpublished before, because the value in db already changed.
After these changes we pass only the pks that really should be/changed to the table and plugin event. If there are no items to change, we respond with a success message "0 items published".
Because we already load the item, no additional query is needed.
Testing Instructions
Go to article Manager, set one article as unpublished.
Checkall articles and publish them.
As the change was made in ArticleModel this will affect all Models in the backend, that are extending it. So it would be good to test other entities as well.
Before Changes:
After Changes: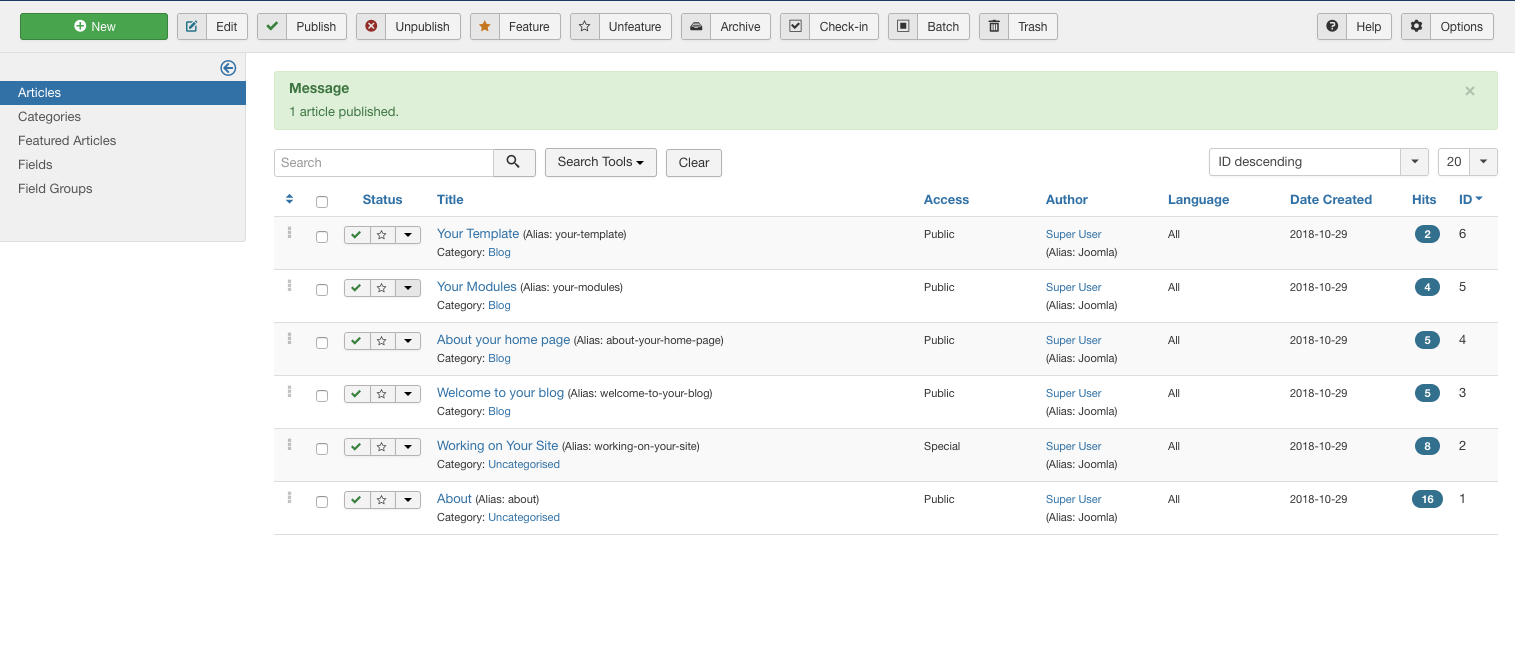 When no items were published:

@dneukirchen Under Extensions > Plugins, it is not possible to toggle under the Status column.
Quy
referenced this pull request
Nov 6, 2018
Copy link
Contributor
Author
Will take a look tomorrow.
Add this suggestion to a batch that can be applied as a single commit.
This suggestion is invalid because no changes were made to the code.
Suggestions cannot be applied while the pull request is closed.
Suggestions cannot be applied while viewing a subset of changes.
Only one suggestion per line can be applied in a batch.
Add this suggestion to a batch that can be applied as a single commit.
Applying suggestions on deleted lines is not supported.
You must change the existing code in this line in order to create a valid suggestion.
Outdated suggestions cannot be applied.
This suggestion has been applied or marked resolved.
Suggestions cannot be applied from pending reviews.
Suggestions cannot be applied on multi-line comments.