Join GitHub today
GitHub is home to over 31 million developers working together to host and review code, manage projects, and build software together.
Sign up
New issue

Have a question about this project? Sign up for a free GitHub account to open an issue and contact its maintainers and the community.

By clicking "Sign up for GitHub", you agree to our terms of service and privacy statement. We'll occasionally send you account related emails.

Already on GitHub? Sign in to your account
fun.js.org
#2871
Conversation
Hi there!
Before we can accept your domain request, you need to create a file named CNAME in the root of your github pages site (this may not be the root of your repository). 📝
This file should contain a single line with the full js.org domain you are requesting, in this instance fun.js.org.
Copy link
Contributor
Author
But I do have a CNAME file with the sub-domain letters over here.
@the94air Please check the github pages settings to see if it has detected it. The site is not redirecting to the js.org subdomain which is normally an indication it has not detected the CNAME file.
Copy link
Contributor
Author
I still don't know what the error is but GitHub is saying that there is already a repo that have same sub-domain. though https://fun.js.org doesn't take anywhere.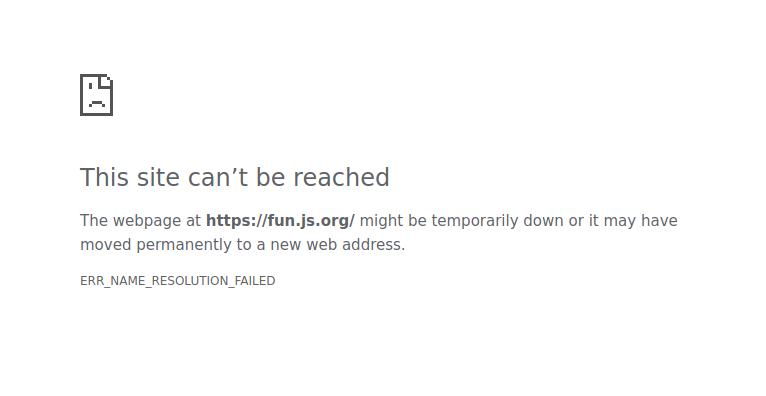 @the94air It would appear the user @caracal7 is using it in their repository, though their PR was never accepted: https://github.com/caracal7/fun.js
I would suggest getting to touch with GitHub yourself to get this resolved and explain that the other user should not be using fun.js.org as their request was not accepted, and you are now wanting to use it.
Add this suggestion to a batch that can be applied as a single commit.
This suggestion is invalid because no changes were made to the code.
Suggestions cannot be applied while the pull request is closed.
Suggestions cannot be applied while viewing a subset of changes.
Only one suggestion per line can be applied in a batch.
Add this suggestion to a batch that can be applied as a single commit.
Applying suggestions on deleted lines is not supported.
You must change the existing code in this line in order to create a valid suggestion.
Outdated suggestions cannot be applied.
This suggestion has been applied or marked resolved.
Suggestions cannot be applied from pending reviews.