Arnaldo Bot

A simple bot for helping you with your financial life, read more here.
Demo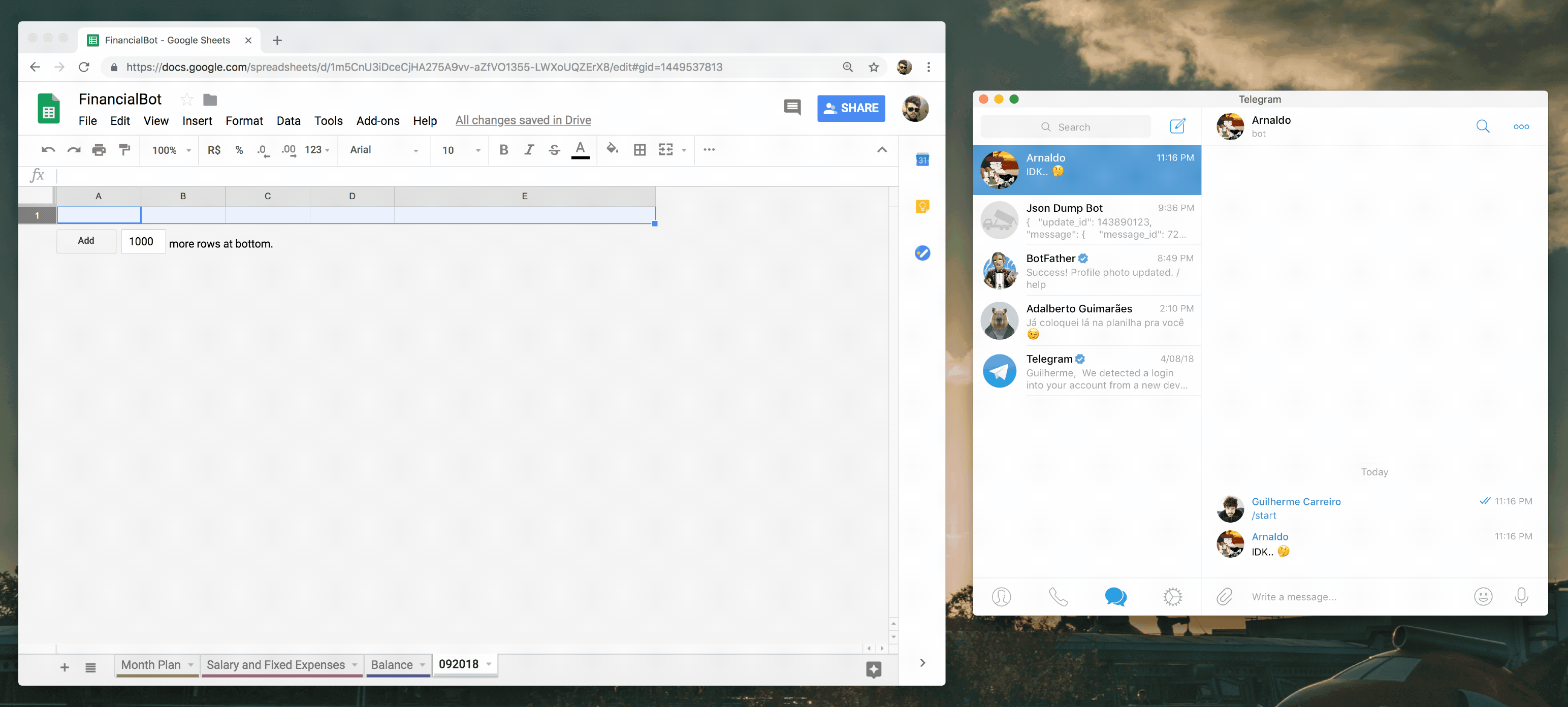 Configuring

Configure an instance of the bot by following the next 3 simple steps:
1) Telegram environment variables

First of all, configure the TELEGRAM_TOKEN and the TELEGRAM_ID environment variables.

You'll need to create a bot on Telegram, by adding the BotFather and following the instructions there. He will help you with everything and, in the end, you will get the bot token.

Considering that the token is something like "111111111:AAAAaa11aaaaAA1aAAaAA1AAaAaaaAaaaAA", the TELEGRAM_TOKEN value must be "bot111111111:AAAAaa11aaaaAA1aAAaAA1AAaAaaaAaaaAA" (noticed that it's necessary to add the word bot in the beginning).

For the TELEGRAM_ID, variable, which your user id, you can ask for it to the @jsondumpbot ;-)
2) Google API environment variables

The variables configured in this steps are: GOOGLE_ACCOUNT_TYPE, GOOGLE_CLIENT_EMAIL and GOOGLE_PRIVATE_KEY.

First, go to Google Developers Console, click the Library section, enable Google Sheets API, and finally, in the Service account section, create a service account without roles, with the "G Suite Domain-wide Delegation" enabled.

Finally, click on the "Create key" button and Download the JSON file with the three variables that we need.
3) The spreadsheet

Create a spreadsheet on Google Drive. The URL is something like this https://docs.google.com/spreadsheets/d/AAAAAA/edit, and the AAAAAA is the SPREADSHEET_ID that we're looking for.

Finally, share the spreadsheet with the e-mail from the GOOGLE_CLIENT_EMAIL variable, and boom! It's done :-)
Contributing
Fork it
Create your feature branch (git checkout -b my-new-feature)
Commit your changes (git commit -am 'Add some feature')
Push to the branch (git push origin my-new-feature)
Create a new Pull Request