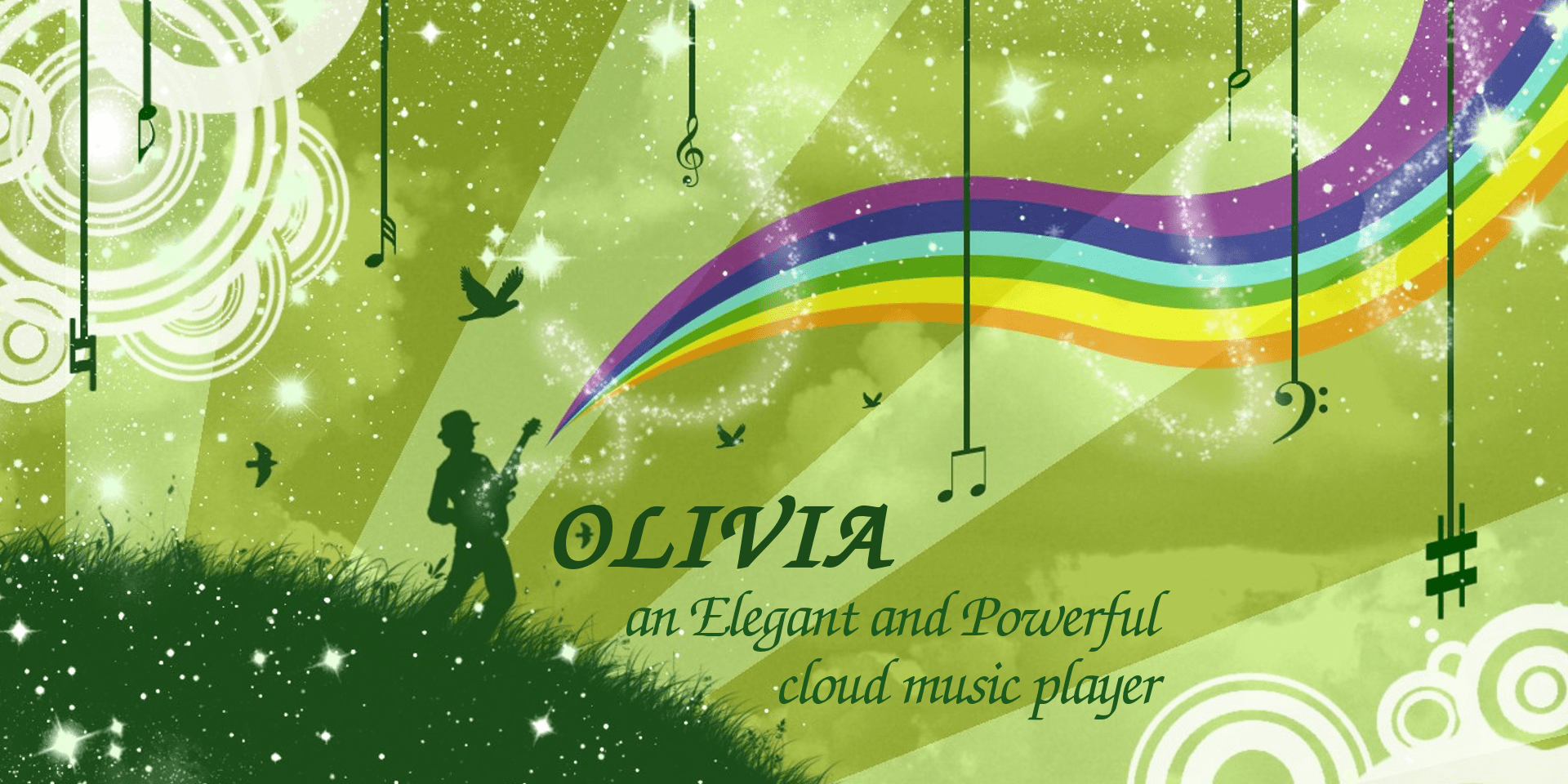 Olivia - Elegant music player for LINUX

by @keshavbhatt of ktechpit.com and [others] (https://github.com/keshavbhatt/olivia/graphs/contributors)  Olivia hits mark of 5000+ active users already

Nightly Build on any snapd enabled Linux Distribution can be installed using:
Arch Linux (AUR):
Features
Olivia helps you discover new music and videos like no other service do.
Smart Music recommendation, can get you songs related to any song.
Allows organise music and videos at one place.
Olivia can save track while you are streaming it, this saves your bandwidth.
Olivia never stops playing song for you with its smart playlist feature it automatically starts playing related songs for you once your playlist ends.
Watch or Download Video for any song in different audio video formats and quality.
Allows search YouTube and add result to library, sort results and all other YouTube features like browse channels.
Plays audio only of YouTube streams (saves data bandwidth).
Support themes , Dynamic theme based on album art.
Intelligent Music Search suggestions engine integrated.
Player Mini mode aminimal player widget with always on capability and allows set transparency and make it act like a desktop widget.
Switch to Smart mode and sit back, olivia will play songs for you automatically.
Internet radio, allows play more than 25k online radio stations, list them sort them according to most played , most voted, language wise, country wise and by tags .
Olivia lets you browse new music according to your location.
Olivia lets you discover music based on their genres, moods and more.
Its easy to discover new music - singles, albums etc easily at one place.
Top music chart, allows list top 100 songs country wise.
Top albums chart, allows list top 100 albums county wise.
Beautiful Client side Decoration.
Lyrics of playing songs and separate lyrics search.
Powerful audio equalizers and audio filters.
MPRIS protocol support.
Audio export with meta tags and album art.
More features like cloud synchronisation of your Liked Music is coming soon, so you will be able to get your music back no matter where you are.
Consider Donating if you want this music player grow further
Olivia utilises power of the following tools and technologies :
Qt GUI Framework 5.5.1
Bash, wget, socat, tee and other utilities that comes with "coreutils" package
MPV Player
Youtube-dl
LibTag
C++11
Python
Lua
PHP, HTML, CSS, JS, JSON
snapcraft.io/build for continuous build and delivery through snapcraft.io/store for all major Linux distributions supporting snapd
"Arch User Repository" for distribution of app to Arch Linux users.
Build requirement
Qt >=5.5.1 with these modules
    - libqt5sql5-sqlite
    - libqt5webkit5 (must)
    - libqt5x11extras5
    
mpv >= 0.29.1
coreutils >=8.25
socat >=1.7.3.1-1
python >=2.7
wget >=1.17.1
libtag1-dev

Build instructions With all build requirements in place go to project root and execute:
Build:
qmake (or qmake-qt5, depending on your distro)
make

Execute :
 Or build a snap package Copy snap directory from project root and paste it somewhere else (so the build will not mess with source code) Run :
Try snap with :
Install snap with
snap install --dangerous name_of_snap_file

Contributors