Join GitHub today
GitHub is home to over 28 million developers working together to host and review code, manage projects, and build software together.
Sign up
New issue

Have a question about this project? Sign up for a free GitHub account to open an issue and contact its maintainers and the community.

By clicking "Sign up for GitHub", you agree to our terms of service and privacy statement. We'll occasionally send you account related emails.

Already on GitHub? Sign in to your account
Date Entry Problem (date is disappeared)
#1171
Comments
A date is supposed to be added
Once I choose the date I want to add, it is disappeared from the input box. and when I click the date to tired to add again, doesn't work.
Only from the calendar from the Add floater
Steps to reproduce
Reproducable on demo.kimai.org? [yes|no]
Kimai version [for example: dev 1.1.0.1389|github master|github develop] v1.2.2.1394
Relevant log entries from log file (debug tab or temporary/logfile.txt)
Hi. I don't understand the problem. Can you verify it on the kimai demo? Which browser do you use?
Thank you for reply So, on kimai there is Add button(+) left corner on Timesheets and when you enter the date you choose the date from the calendar. once I choose the date from the calendar, nothing is shown on the input box. so I have to type the date manually is it clear enough to understand? :) I am using Chrome browser. Thank you for your help in advance. Summer
…
-- Summer Lee Olschimke Beratungsgesellschaft mbH Bahnhofstraße 8, 30159 Hannover, Germany Phone: +49 (511) 879 89343 <+49%20511%2087989343> Fax: +49 (511) 879 89349 <+49%20511%2087989349> slee@scalefree.com
www.scalefree.com
Company Headquarters: Hannover, Germany Registration: Amtsgericht Hannover HRB 213578 Geschäftsführung: Michael Olschimke CEO: Michael Olschimke CTO: Dan Linstedt
Not sure the date is disappearing, but the date functionality is a little off.
I am using US date format mm/dd/yyyy but it prefers the European date format dd/mm/yyyy.
It work if you input the data on that day, but if you try to put in time that had happened the day before or any day in the past using the calendar GUI, it will convert back to European format.
I usually just manually type in the date now, I am using v1.2.2.1394 now just upgraded today, but this issue was there in the previous version as well.
Today, date not selected from GUI.

Date selected from GUI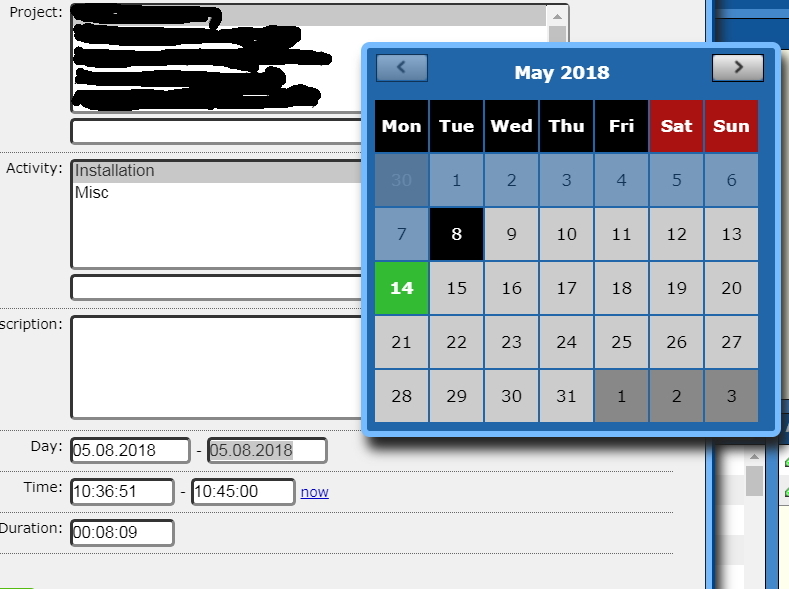 I think #1121 addresses exactly your problem. Can anyone help in reviewing this pull request?
Thank you, I just saw the update to 1.3, but i wanted to let you know that i think the releases are mixed up, when you go to download stable, it is downloading kimai-kimai-1.3.1-8-g47f4050 and you go to the dev release it is showing up as kimai_1.3.1 no complaints just an FYI and thank you!
Don't mixup the official release with the zip file of master branch! They are very different. Stable is for developers only (just a zip file of master branch from the github sources) while the release contains all composer packages as well. They are excluded in the "stable" release and you need fetch them yourself.