Autocomplete keys of associative arrays defined in other functions.
Jetbrains Repository: 9927-deep-assoc-completion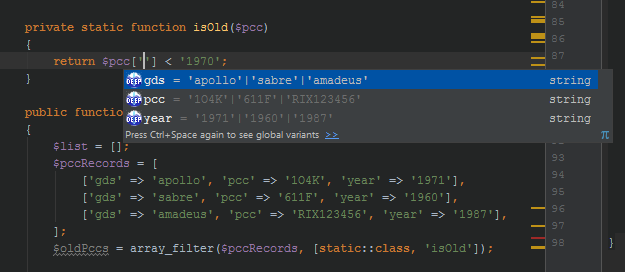 Features description

(a bit more relaxed usage guide can be found here)
Completion sources
Argument type resolution based on what was passed to the function

Extremely useful for small private helper functions - you don't need to document args in each of them to get completion.
---
---
.jar follow:
Steps to compile plugin into a
Start creating a new project in Intelliji Idea.
Select Intelliji Platform Plugin.
Select a phpstorm or IDEA Ultimate installation directory as Project SDK (java version is 8).
Select deep-assoc-completion project folder as Project location.
In Project Structure -> Libraries add php.jar and php-openapi.jar from YourPhpStormDirectory/plugins/php/lib/ (in case of IDEA Ultimate, the php plugin should be installed, and the location is HomeOrMyDocumentsDir/.IntellijIdea20XX.X/config/plugins/php/lib).
In Project Structure -> Modules -> Dependencies set Scope of php-openapi to Provided.
To build a jar use Build -> Prepare Plugin ... For Deployment. To debug use Run -> Debug. Since phpstorm project takes about a minute to start, you must find Run -> Reload Changed Classes very useful for micro changes.
To use compiled .jar in your phpstorm go to Settings -> Plugins -> Install plugin from disk and select the .jar we compiled earlier.