Join GitHub today
GitHub is home to over 28 million developers working together to host and review code, manage projects, and build software together.
Sign up
New issue

Have a question about this project? Sign up for a free GitHub account to open an issue and contact its maintainers and the community.

By clicking "Sign up for GitHub", you agree to our terms of service and privacy statement. We'll occasionally send you account related emails.

Already on GitHub? Sign in to your account
Visual glitch while fighting Misery.
#34
Comments
ClockworkTomato commented Jun 16, 2017

•

Edited 1 time

twinaphex

edited Jul 19, 2017 (most recent)
I'm on the latest stable version of Retroarch, and installed the nxengine core from the updater a couple of weeks ago.
The game works flawlessly, the only issue I've had is the following: the Misery boss fight starts properly...
As you can see I drew a red circle around a block; after a while, Misery will try to drop a block just like that one above the player. After she does so, her sprite gets replaced by the one you can see in the next picture: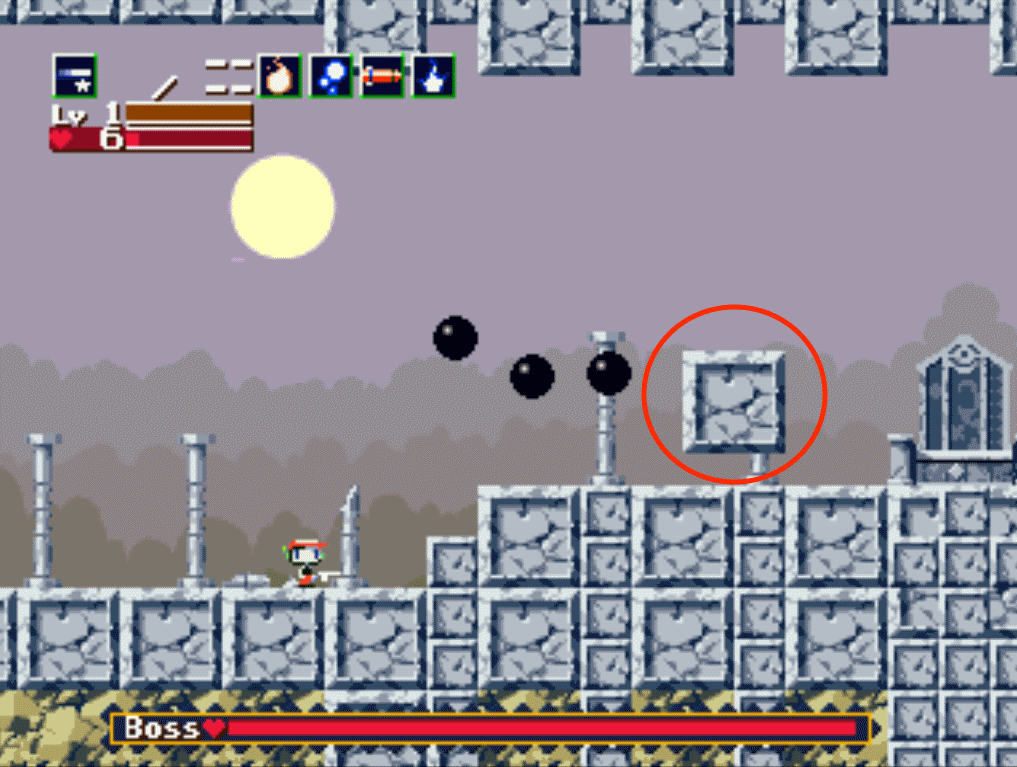 That block I circled is, in fact, Misery. The difference is only aesthetic, as she'll keep fighting and taking damage as usual; sometimes during her attacks (when she'd otherwise be raising her arms) the block sprite will glitch out, but otherwise the fight can go on normally, with Misery reverting to her normal sprite as soon as her health bar is depleted.
This comment has been minimized.

Show comment

Hide comment
Could you send your save game? I'd be willing to test this out.
This comment has been minimized.

Show comment

Hide comment
Here's the save; if you start in a small prefab building it's the correct one.
And, just in case, here's a pic from the title screen:
If it wasn't obvious, I'm using the English Aeon Genesis translation.
This comment has been minimized.

Show comment

Hide comment
Yup, confirmed on latest on Linux Ubuntu 16.04.
This comment has been minimized.

Show comment

Hide comment
added a commit to andwn/nxengine-libretro that referenced this issue Jul 18, 2017
This comment has been minimized.

Show comment

Hide comment
added a commit to RobLoach/NXEngine that referenced this issue Jul 19, 2017
This comment has been minimized.

Show comment

Hide comment
added a commit to EXL/NXEngine that referenced this issue Sep 18, 2017