Join GitHub today
GitHub is home to over 36 million developers working together to host and review code, manage projects, and build software together.
Sign up
New issue

Have a question about this project? Sign up for a free GitHub account to open an issue and contact its maintainers and the community.

By clicking "Sign up for GitHub", you agree to our terms of service and privacy statement. We'll occasionally send you account related emails.

Already on GitHub? Sign in to your account
Mint-Y: Don't use the accent color as much
#202
Comments
The Mint-Y theme makes heavy use of the accent color. If you love green, you're in for a treat, if you don't... well it's a bit omnipresent.
We're also starting with a disadvantage compared to other projects because most of them are able to use Blue, which people enjoy more, which is easier to work with, more standard, and which generally looks better than green.
The idea here is to reduce the amount of accent color within the Mint-Y theme.
Here's a look at the current Mint-Y: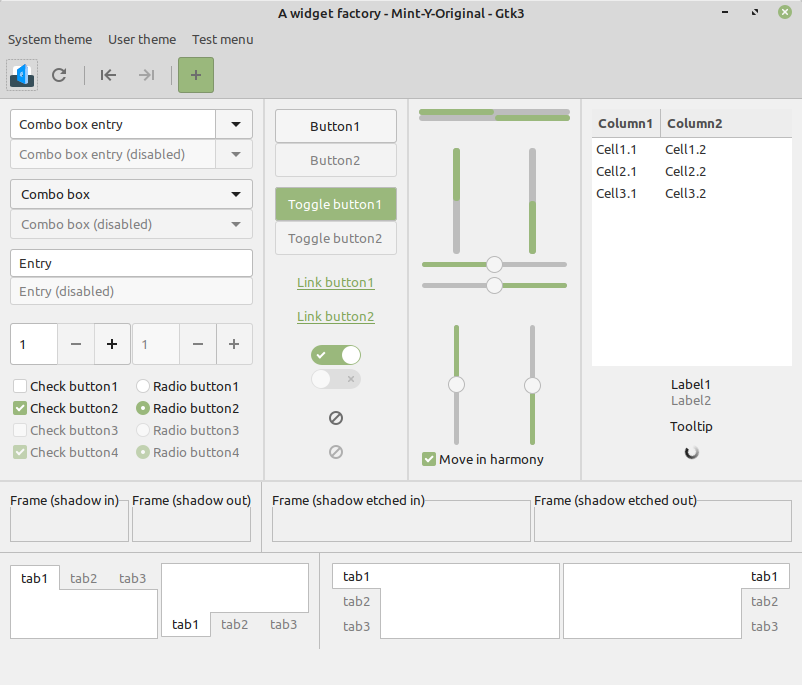 In comparison, here's Adwaita:
As you can see above, checkboxes, radio buttons are neutral and don't use the accent color. Same goes for toggle buttons and buttons....etc.
The Mint-Y notebook tabs are neutral (unlike the Adwaita ones) and they work very well. We should try and make more widgets neutral like this. We can always add emphasis on colour around the theme, in the use of selection, tiling zones, logos, backgrounds, etc.. we'll look more classy if we don't overuse it within the theme.
please add a tool like this widget factory in linux mint. Which will help us to change the depth of green color or what we want.
it's there, awf-gtk2, awf-gtk3, gtk3-widget-factory.
gtk3-widget-factory is actually installed as part of the gtk-3-examples package. This also give you gtk3-demo which can be handy to see some widgets you may not see in the others.