Document your code
Every project on GitHub comes with a version-controlled wiki to give your documentation the high level of care it deserves. It's easy to create well-maintained, Markdown or rich text documentation alongside your code.
Sign up for free
See pricing for teams and enterprises
Home
HARDINFO
HardInfo is a system profiler and benchmark for Linux systems. It is able to obtain information from both hardware and basic software, and organize it in a simple to use GUI.
Features include:
Report generation (in either HTML or plain text)
Benchmark result synchronization
Ability to explore the information on remote computers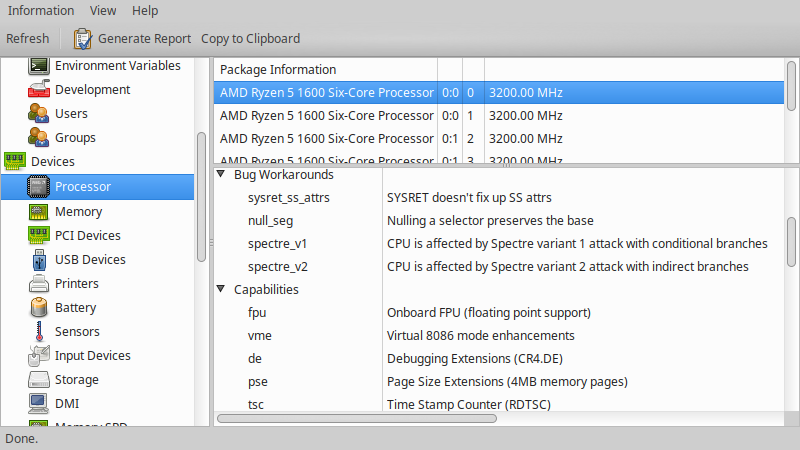 Status
Capabilities: HardInfo currently detects most software and hardware detected by the OS. Features: The remote sync was disabled due to server loss. Development: Currently done by contributors, a new dedicated maintainer is needed.
DEPENDENCIES
Required:
GTK+ 2.10 (or newer)
GLib 2.10 (or newer)
Zlib (for zlib benchmark)
Optional (for synchronization/remote):
Hardware detection tips:
Most hardware is detected automatically by HardInfo, however, some hardware needs manual set up. They are:
Sensors
lm-sensors: If your computer is compatible with lm-sensors module, use by example the sensors-detect program included with the lm-sensors package of Debian based distros, and be sure to have the detected kernel modules loaded.
hddtemp: To obtain the hard disk drive temperature, be sure to run hddtemp in daemon mode, using the default port.
Memory Speed
The module eeprom must be loaded to display info about your currently installed memory. Load with modprobe eeprom and refresh the module screen.