Join GitHub today
GitHub is home to over 40 million developers working together to host and review code, manage projects, and build software together.
Sign up
New issue

Have a question about this project? Sign up for a free GitHub account to open an issue and contact its maintainers and the community.

By clicking "Sign up for GitHub", you agree to our terms of service and privacy statement. We'll occasionally send you account related emails.

Already on GitHub? Sign in to your account
scoop update stuck on git log
#2144
Comments
When running the scoop update command, it goes to the git log view.

When leaving this view, (press q), the console remains on doing nothing. The only way to leave this state and come back to the prompt is to kill the process.
Here is the git information I see you ask in these type of issues:

It also displays this behaviour when trying to update the installed components, both through * and specific package, preventing updating through scoop.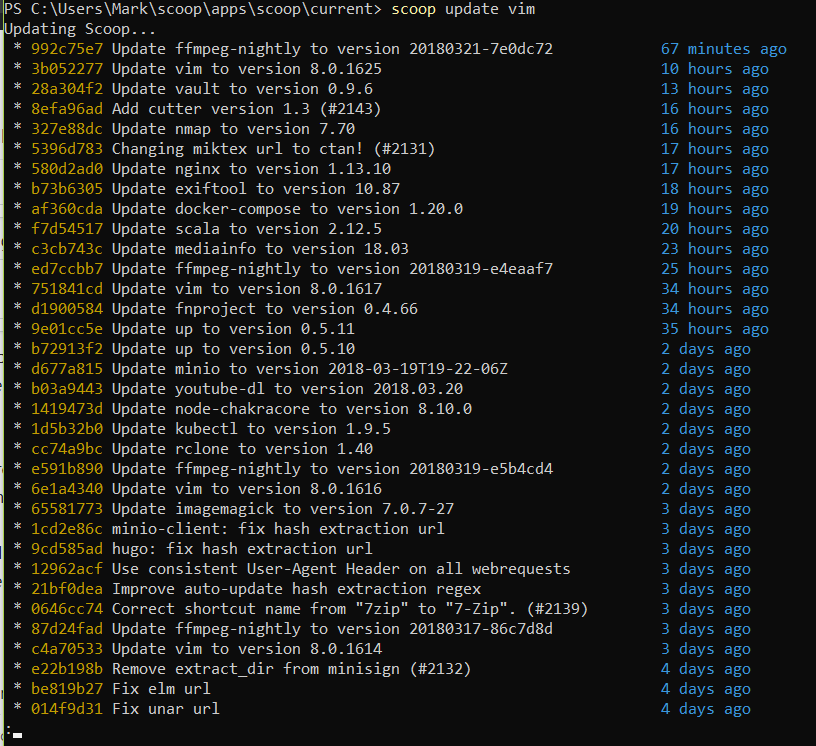 Thank you for your quick response.
Is there a reason not to publish the revert of this commit on the central master branch? Does it only occur under specific circumstances?
It only occur when you didn't update scoop for some time, when there is a long commit history.
We want a better solution to deal with update log, discussion at #2133 , instead of just reverting the commit.
So, after I update scoop, I can revert the revert?
However, as I understand it, without fundamentally changing the way the update log works, you would run into the same issue as here when enabling the verbose mode proposed by #2133 .
git log pauses if there are too many lines. I disabled the pagination with cac9975
Updating should continue when you press and hold enter to show more log entries.
Or remove the "lastupdate" value from %USERPROFILE%/.scoop
I confirm, when leaving the history, the update completes now, even if you leave by pressing 'q' (no need to scroll to the ending by enter). Tested it by setting my last update date far into the past.