Join GitHub today
GitHub is home to over 28 million developers working together to host and review code, manage projects, and build software together.
Sign up
New issue

Have a question about this project? Sign up for a free GitHub account to open an issue and contact its maintainers and the community.

By clicking "Sign up for GitHub", you agree to our terms of service and privacy statement. We'll occasionally send you account related emails.

Already on GitHub? Sign in to your account
Features: repeat distance, allowCrop, multi-color labels, orientation 'auto' and 'flip', turnedText, ...
#72
Conversation
I have a christmas present for you!
I would have liked to create pull requests for each feature, but they all depend on each other, that's why I created a "features" pull request.
It includes the following features:
repeat distance: You can specify repeat as float to set the distance between each repetition in pixels (will be approximated by spaces). Replaces #70 .
allowCrop: If the line is too short to display the whole text, crop the text. If false, don't show the text at all. (Default: true). This could improve performance on maps with short lines.
multi-color labels: (or better "labels with multiple tspans") A label can consist of several tspans, which can change all available attributes. See documentation of the extended text parameter.

Fixes

#26 . (See the "Rainbow" in the screenshot below)
Orientation 'auto': Flip labels according to the orientation of the line (also for part of lines). Therefore labels can always be upright. (See the "Road" in the screenshot below)
Orientation 'flip':

Fix

#71 .
Option turnedText: When flipping a label because of orientation auto (for east-west line parts), use this text instead. Useful if a label includes directional characters like arrows.
Also:
for performance reasons, the length of labels will be cached.
Accept offset=0 (see bug #73)
Tell me what you think about it.
Are the options named properly?
Is the documentation understandable?
Can you detect any regressions?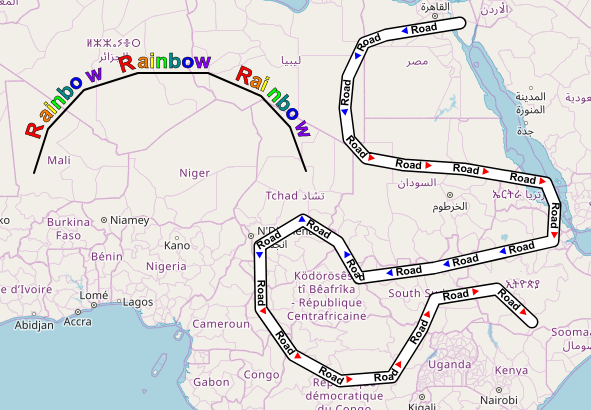 One big problem is browser support for rotated text on textpath.
Chrome-based browsers (Opera, ...): very good
Firefox: problems with fonts with variable width, also shifted by one character
IE / Edge: does not rotate labels
You can check how your browser behaves (first image) and compare with screenshots of other browser on this test page:
https://xover.mud.at/~skunk/svg-rotate-glyph
Please submit screenshots of other browsers!
I guess I should implement a browser detection and mitigate problems (e.g. select a fixed-width font on firefox, disable rotation on IE/Edge).
That looks okay. I'll try to get my hands on a Mac soon, so I can test what's wrong with my test page ...
Add this suggestion to a batch that can be applied as a single commit.
This suggestion is invalid because no changes were made to the code.
Suggestions cannot be applied while the pull request is closed.
Suggestions cannot be applied while viewing a subset of changes.
Only one suggestion per line can be applied in a batch.
Add this suggestion to a batch that can be applied as a single commit.
Applying suggestions on deleted lines is not supported.
You must change the existing code in this line in order to create a valid suggestion.
Outdated suggestions cannot be applied.
This suggestion has been applied or marked resolved.
Suggestions cannot be applied from pending reviews.