Join GitHub today
GitHub is home to over 40 million developers working together to host and review code, manage projects, and build software together.
Sign up
New issue

Have a question about this project? Sign up for a free GitHub account to open an issue and contact its maintainers and the community.

By clicking "Sign up for GitHub", you agree to our terms of service and privacy statement. We'll occasionally send you account related emails.

Already on GitHub? Sign in to your account
None as tick label converted to empty string
#15630
Comments
Bug report
I was surprised that when None is a tick label it gets converted to an empty string instead of NaN or simply None. Maybe this is a weird cornercase, but I actually have a case where one category is None and another category is "" so when they are used as labels, they show up as the same thing.
Code for reproduction
labels 

=

 [

"

A

"

, 

"

B

"

, 

"

C

"

, 

"

"

, 

None

]
values 

=

 [

1.0

, 

2.0

, 

3.0

, 

4.0

, 

5.0

]
plt.barh(np.arange(

len

(values)), values, 

tick_label

=

labels)
In contrast and as a counterexample from another package, when used as index values, pandas actually converts None to NaN. For example, run:
pd.DataFrame(values, 

index

=

labels)
Actual outcome
Expected outcome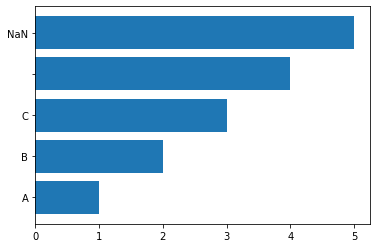 Alternatively, if I plot using pandas
pd.DataFrame(values, index=labels).plot.barh()

I get the following plot:
Matplotlib version
Operating system: macOS Mojave (10.14.5)
Matplotlib version: 3.1.1
Matplotlib backend (print(matplotlib.get_backend())): module://ipykernel.pylab.backend_inline
Python version: 3.7.4
Jupyter version (if applicable): 1.0.0
Other libraries:
I installed matplotlib via pip in a virtual environment.
None resulting in no label is the intended way of working in Matplotlib. Casting None to a string would be a bit of an assumption. I can't speak for pandas, but None -> NaN conversion seems like a type coercion (may happen if you force a list containing non-numeric data into a numeric column).
If you want the string "None", you should pass it in as such [str(l) for l in labels], or map(str, labels).
fwiw I think the situation with labels is pretty awkward: we convert everything to strings, except None (and that change is quite recent (depending on the specific place) -- #10392, #14660). If someone wants to write robust, generic code, they can't rely on that autoconversion unless they know for sure the label can't be None (basically, it's the OP's issue).
I would support deprecating passing parameters other than str or None. (cf. plot(["1", "2"]) which used to mean plot([1, 2]) before the implementation of categoricals -- well I don't know whether that really supports doing the change given the havoc that the change caused, but I see these as being the same kind of change)