Join GitHub today
GitHub is home to over 31 million developers working together to host and review code, manage projects, and build software together.
Sign up
New issue

Have a question about this project? Sign up for a free GitHub account to open an issue and contact its maintainers and the community.

By clicking "Sign up for GitHub", you agree to our terms of service and privacy statement. We'll occasionally send you account related emails.

Already on GitHub? Sign in to your account
Segments stats improvements
#7285
Conversation
Please be sure you are submitting this against the staging branch.
| Q | A |
| --- | --- |
| Bug fix? | |
| New feature? | Enhancement |
| Automated tests included? | |
| Related user documentation PR URL | |
| Related developer documentation PR URL | |
| Issues addressed (#s or URLs) | |
| BC breaks? | |
| Deprecations? | |
Description:
This PR bring large improvements to segment stats on details page.
New added/removed/total segment line graphs
With segment activity log added in 2.15 #6719 we are able to display added/removed/total contacts in time.
The main issue of this was figure out how to display data for segments created before that version.
We try identify it with with check first event log for segment and contact added before event log during the selected date range
https://github.com/mautic/mautic/pull/7285/files#diff-576fb4a56ed6ba56eef6267453efae7dR249
If we works in date range just with event logs we try display added/removed/total graph line, If not we display just added line.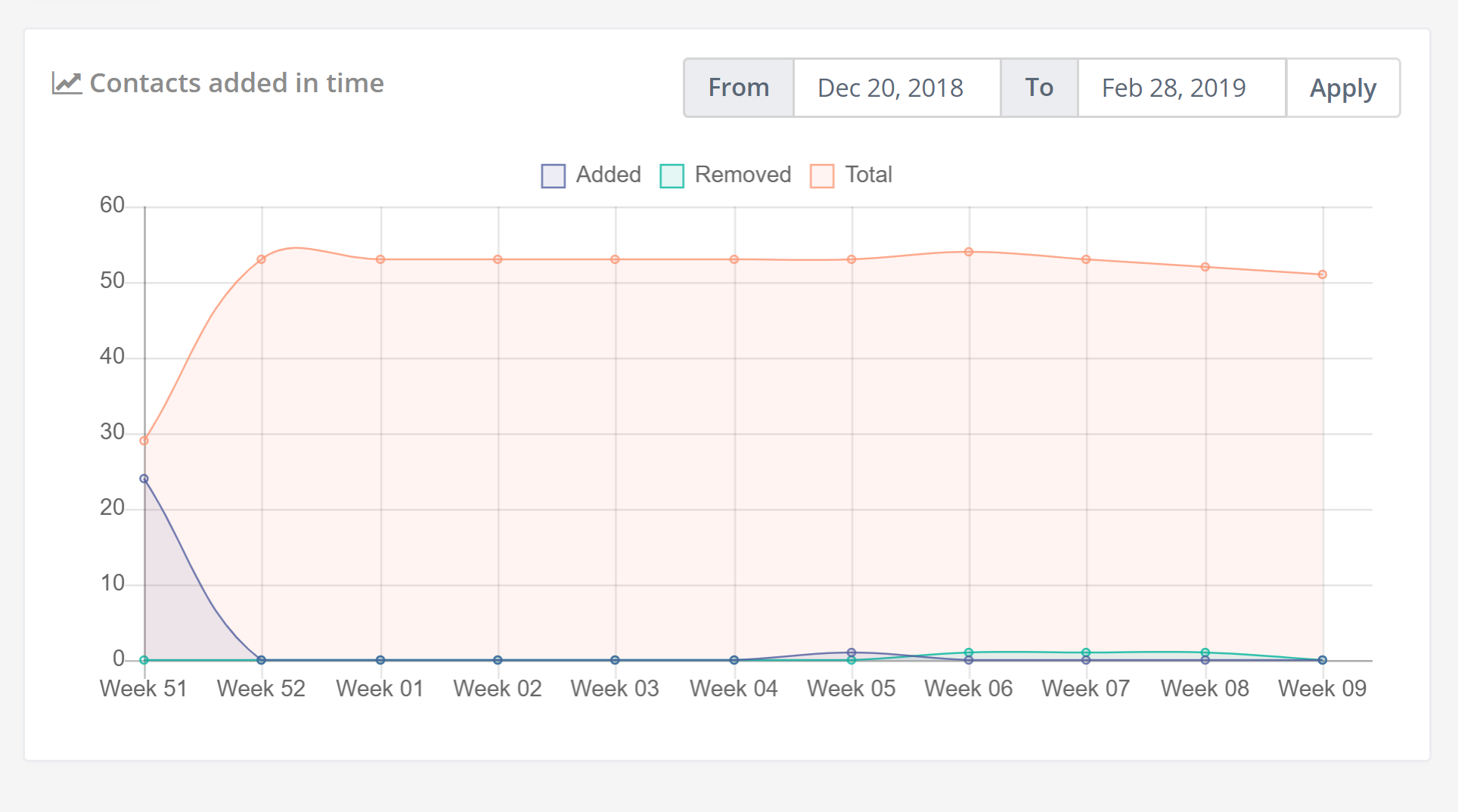 Segment usage
This is helpful if we want identify usage of segment in another parts Mautic.
The number is clickable to IDs results of each controller.
Campaigns share tab
This help identify how many contacts of segments running in campaigns.
For example I can create segment woman and see the share of that segment in campaigns.
Steps to test this PR:
Load up this PR
It's quite long story
You need have larga data and segment
Need test all stuff from description
Especially take a look to line graph of segment. Segments with date range with data from event log and data without event log (after upgrade etc)
kuzmany changed the title Segments stats improvements (in progress) Mar 3, 2019
npracht added this to Ready to Test (first time) in Mautic 2 via
automation
Mar 8, 2019
Copy link
Member
npracht left a comment
Okay ! With last commits it works now. This is a greta improvement to follow the amount of contacts applying to some criteria (segment filters) in time.
Add this suggestion to a batch that can be applied as a single commit.
This suggestion is invalid because no changes were made to the code.
Suggestions cannot be applied while the pull request is closed.
Suggestions cannot be applied while viewing a subset of changes.
Only one suggestion per line can be applied in a batch.
Add this suggestion to a batch that can be applied as a single commit.
Applying suggestions on deleted lines is not supported.
You must change the existing code in this line in order to create a valid suggestion.
Outdated suggestions cannot be applied.
This suggestion has been applied or marked resolved.
Suggestions cannot be applied from pending reviews.