Join GitHub today
GitHub is home to over 28 million developers working together to host and review code, manage projects, and build software together.
Sign up
New issue

Have a question about this project? Sign up for a free GitHub account to open an issue and contact its maintainers and the community.

By clicking "Sign up for GitHub", you agree to our terms of service and privacy statement. We'll occasionally send you account related emails.

Already on GitHub? Sign in to your account
Correct Opera compat for summary and details elements.
#1786
Conversation
Opera
Per caniuse and personal testing, Opera has the same support for the <summary> element as it does for the <details> element.
Opera 52.0.2871.64 on OSX 10.11.6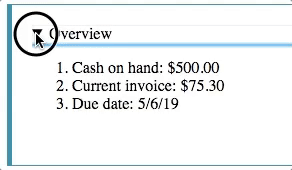 Opera Mobile
Support per caniuse claims Opera Mobile has supported the <details> and <summary> elements since version 37. Through personal testing, I can verify that the elements work at least with version 45, so I'm inclined to trust their claim.
Links
I agree about version 15 for Opera Desktop. Not so sure about Opera Android 37. Usually Desktop and Mobile versions match.
Yeah, it seems there might be missing data from caniuse for Opera Android.
Also, the first Opera for Android version that used Blink was 14 (Android went 12.x -> 14 -> 15, whereas Desktop went 12.x -> a few months later, see #1712)
Went with opera_android: 14 then. Thanks to both of you! 🎉
1 check passed
continuous-integration/travis-ci/pr The Travis CI build passed
Details
CITguy deleted the

CITguy:correct-opera-summary-details

branch Apr 17, 2018
Add this suggestion to a batch that can be applied as a single commit.
This suggestion is invalid because no changes were made to the code.
Suggestions cannot be applied while the pull request is closed.
Suggestions cannot be applied while viewing a subset of changes.
Only one suggestion per line can be applied in a batch.
Add this suggestion to a batch that can be applied as a single commit.
Applying suggestions on deleted lines is not supported.
You must change the existing code in this line in order to create a valid suggestion.
Outdated suggestions cannot be applied.
This suggestion has been applied or marked resolved.
Suggestions cannot be applied from pending reviews.